What's New in Aspen Snowmass, CO for Winter 2023-24 | Opening dates have been announced
Operating dates have also been announced, with Aspen Mountain and Snowmass opening on November 23, 2023.
Winter at Aspen Snowmass is approaching in less than 70 days, and opening day is scheduled for Thursday, November 23. With the unveiling of a major new terrain expansion on Aspen Mountain, and the return of World Cup ski racing to our slopes, Aspen Snowmass anticipates the upcoming winter season with big things on the horizon. Here's a breakdown of what's new and noteworthy at Aspen Snowmass for the upcoming 2023-24 winter season.
Aspen Mountain Terrain Expansion: Hero
This winter, Aspen Snowmass will unveil a new high-speed quad lift and expand the terrain on Aspen Mountain, increasing the skiable area by more than 20% on the resort's main mountain. With 1,220 vertical feet and more than 150 acres of new chutes, faces and trails, this expansion will be the first significant addition to Aspen Mountain since the opening of the Silver Queen Gondola in 1985. The new terrain and lift will be called Hero's, to honor everyone. Those who made an impact on Aspen Mountain helped bring this project to life – most influential being Jim Crown, whose vision and leadership helped bring this ambitious expansion to fruition.
Not only does the addition diversify Aspen Mountain's terrain mix and provide more skiing on the top of the mountain, but it also serves as a functional hedge against future climate-challenged ski seasons: with its high, north-facing terrain (all of the above 10,000 feet) This area is ideal for snow retention in seasons when natural snowfall is less abundant. The terrain and lift will be open this winter when conditions allow.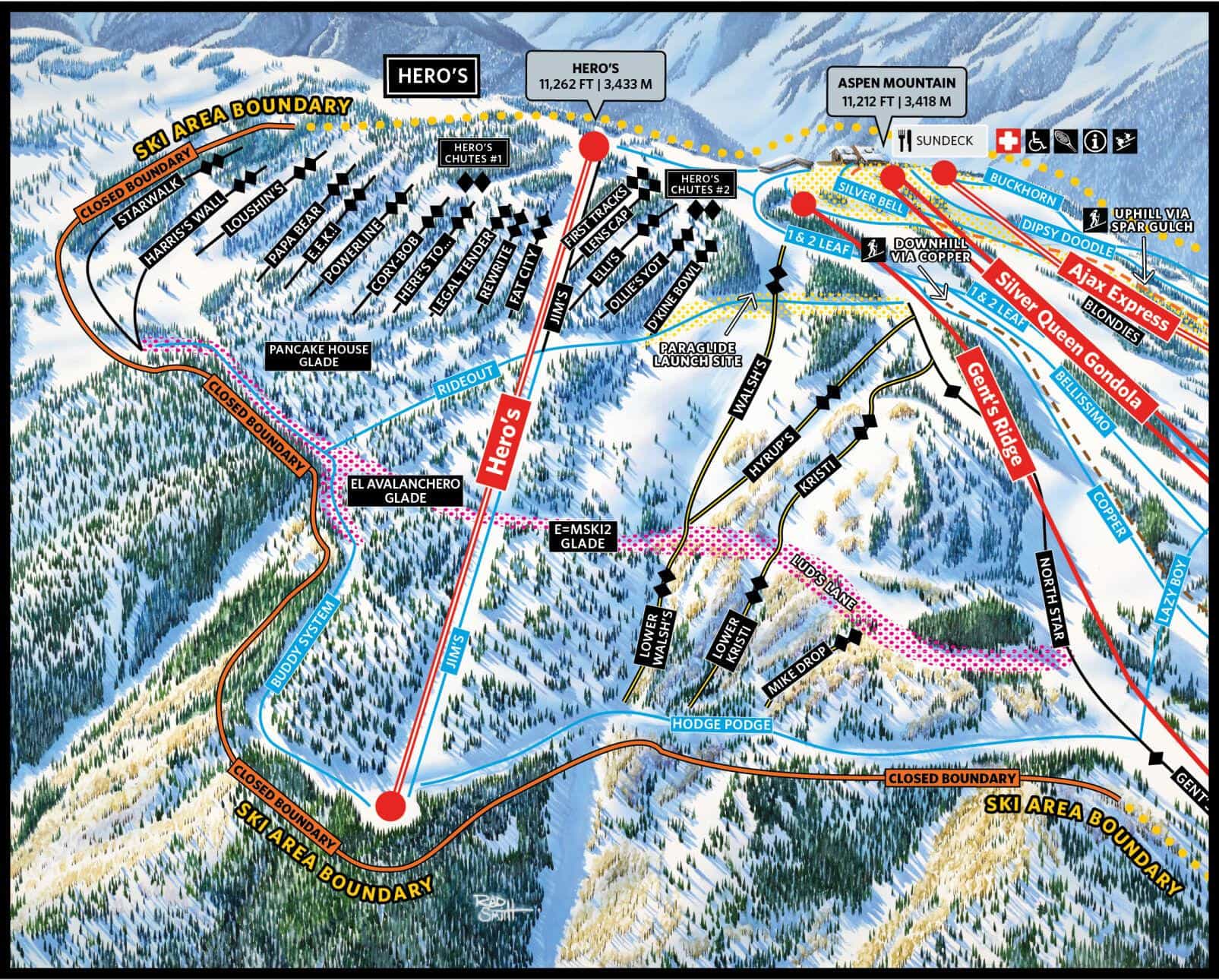 2024 Stifel Aspen International
To cap off the Audi FIS Ski World Cup circuit in the United States, Aspen Snowmass will host the men's technical races at the 2024 Stifel Aspen Winternational from March 1-3, 2024. International racers will compete in slalom and giant slalom on Aspen Mountain, and Aspen Snowmass will host spectators, festivities and events surrounding the races as part of the National Winter Celebration. Aspen Snowmass has hosted more than 100 men's and women's World Cup races over the years, including the World Cup Finals in 2017 and Stifel America's Downhill™ downhill and super-G races last season. The winter event has been a cornerstone of World Cup Ski racing in Aspen since 1981, and this season's event will mark the return of the Winterfest tradition.
Announcing the ArtUP partnership: Claudia Comte
Aspen Snowmass announces the work of renowned artist Claudia Comte will be featured on 2023-24 winter lift passes and tickets. This season marks the 19th consecutive year of Aspen Snowmass's Art in Unexpected Places (ArtUP) program, which brings renowned artists to Aspen to design a limited-edition lift ticket and an opportunity to connect with local and global Aspen communities. Five of Comte's recent works will be featured on lift tickets for this season.
The Alpin Room welcomes a new chef, menu and vibe
The Alpin Room at Snowmass welcomes Chef Emily Auer, former executive chef of Cloud Nine, to take the helm and reimagine the restaurant's menu and character. Chef Auer is a featured chef on Food Network who won Chopped in 2021 and competed on Beat Bobby Flay in 2022. Chef Auer views food as a way to connect, and aims to bring new warmth, energy, and community to the ski area. Fine dining restaurant.
Tucked away in the heart of Snowmass, the Alpin Room opened in winter 2021 and offers a thoughtful, handcrafted reimagining of Alsatian home cooking at high altitude. Chef Emily Auer's fresh take on Alpine-inspired cuisine will feature approachable comfort food with an upscale twist, and an emphasis on locally sourced ingredients.
25th Anniversary Sustainability Report
This year will mark the 25th anniversary of the Aspen Skiing Company's Sustainability Report, which has tracked the resort's environmental progress as well as climate policy actions since 1999. "Over the years, our business has changed our focus from how we perform operationally, to how we impact larger changes in the world, particularly related to climate change," said Auden Schindler, senior vice president of sustainability at Aspen Skiing Company. "This year's report pushes this thinking even further, both visually and intellectually." The report, which is intended to be a resource not only for company employees and resort guests but also for the ski and outdoor industry as a whole, is scheduled for release early this winter.
Tiny Homes employee housing project expands
With local employee housing still a major issue in many ski towns, Aspen Skiing Company is expanding its employee housing portfolio for this winter season by adding a new generation of innovative tiny homes to its Aspen Basalt Campground. These custom designed two-bedroom units are highly energy and space efficient, featuring all-electric utility service as well as incorporating built-in storage and creative touches throughout to allow for high livability and privacy in a very small space. A total of 52 bedrooms across 26 new units will be added to the existing tiny house campus, which will now include a total of 172 beds and 68 tiny houses for Aspen Skiing Company employees.
The company is also expanding its new Tenants for Turns program, which helps provide additional housing options for employees by incentivizing local residents with an extra bedroom or rental unit for employees by providing landlords with a ski pass or lift tickets.
Stay in the know
New for the 2023-2024 winter season, push notifications will be available through the Aspen Snowmass app.Enable early season push notifications to get morning alerts, important mountain updates, and information about special on-mountain events. Enable tracking for the best experience and enjoy enhanced skier and rider stats daily and throughout the season, including vertical feet, Highland Bowl turns, distance traveled, top passes, lifts taken, and more.
Winter operating hours
Aspen Mountain
Opening: November 23, 2023
Closing: April 21, 2024
Aspen Heights
Opening: December 9, 2023
Closing: April 7, 2024
Yogurt
Opening: December 9, 2023
Closing: March 31, 2024
Ice block
Opening: November 23, 2023
Closing: April 14, 2024
You may also like: