Omaha's newest gated community will be like no other the city has seen. The huts consist of 50 tiny homes that will put roofs over the heads of people with disabilities who have experienced chronic homelessness.
An initiative of Siena Francis House, The Cottages is nearing completion at 16th Street and Charles Street, near the Siena Francis campus north of downtown Omaha. Plans call for people to start moving in on November 1.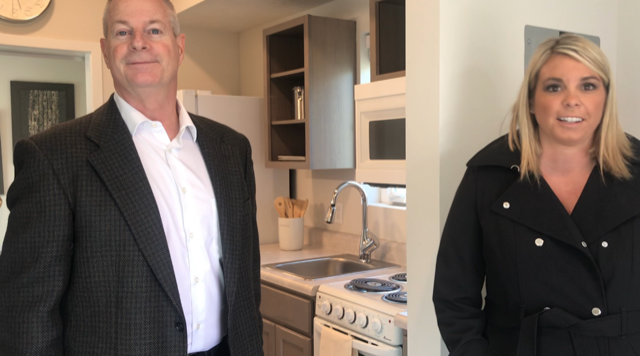 The homes are an innovative approach to addressing the shortage of permanent supportive housing, part of the overall shortage of affordable housing in Omaha.
It is for people who have been homeless for at least one year, or have experienced four episodes of homelessness within a three-year period. Many will come from the supportive apartments at Siena Francis House or by referral through the Metro Area Continuum of Care.
"We are offering an affordable unit (at) The Cottages, and they will all receive a rent subsidy with utilities," said Linda Toomey, CEO and CEO of Siena Francis House.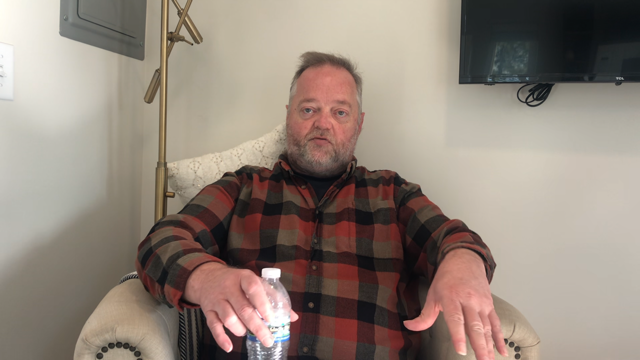 On-site case managers will help people work to prevent homelessness again and help them make plans to achieve their personal goals. Eligible people will pay up to 30 percent of their income for rent. The rest will be paid for by a $275,000 annual grant from the U.S. Department of Housing and Urban Development, and vouchers from sources such as federal Section 8, Douglas County Public Assistance and Veterans Affairs Supportive Housing. Utilities are included in the rent.
"Our goal is housing stability," Twomey said.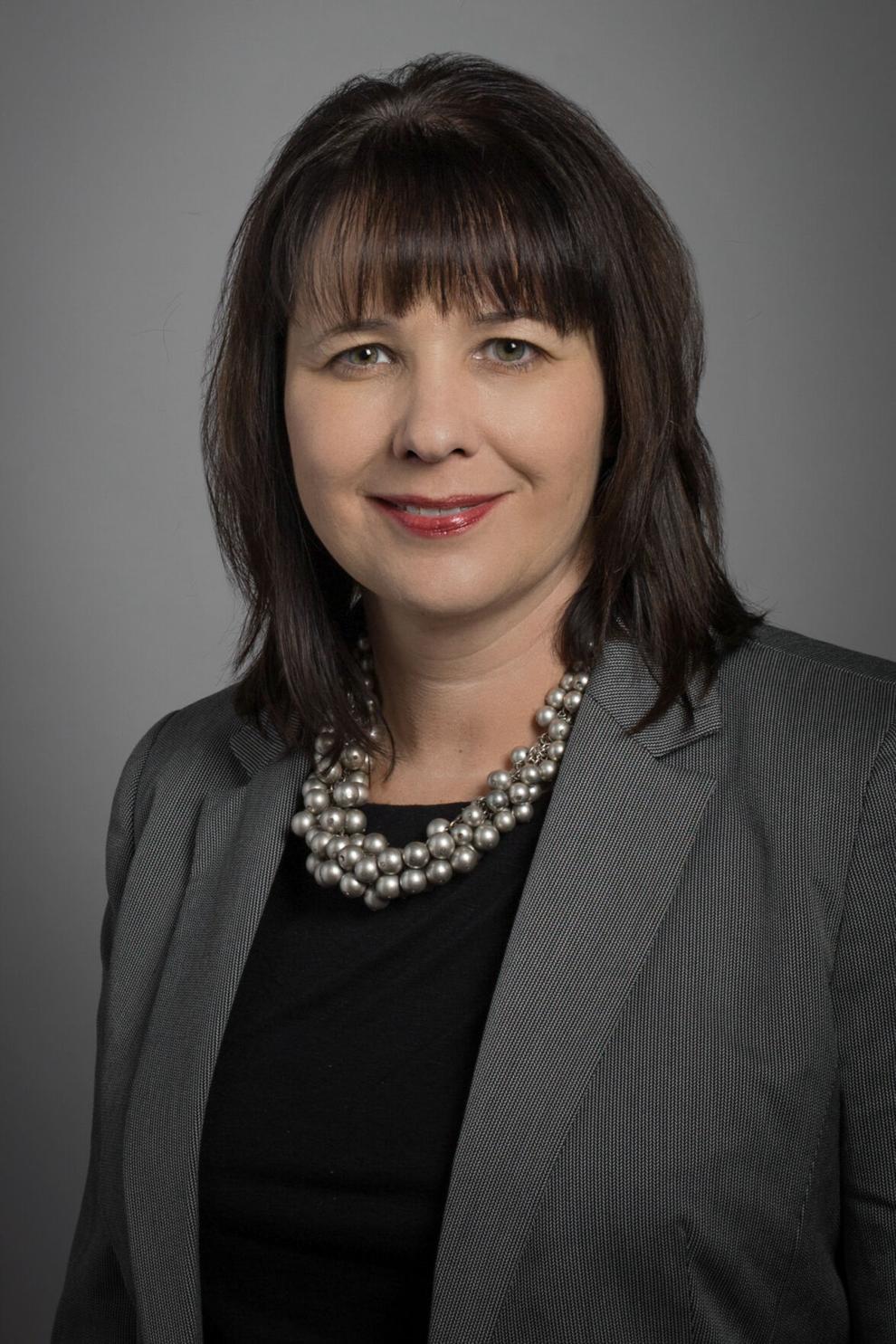 People may live there for months, years, or even the rest of their lives. The average time people live in the current Siena Frances apartments is 3.5 years.
"There's no limit to how long people can stay," Twomey said.
The cottages are located on about two and a half acres of former industrial land, between the Siena Francis House campus and the homes north of it, and across from the industries on the east side of 16th Street.
Arch Icon, the Woodbine, Iowa, company that does much of the development and construction in Omaha, developed the project and built most of the homes. Students at Metropolitan Community College framed seven of the homes, which were then trucked to the site for completion.
Most homes are 250 square feet. ADA accessible homes are 300 square feet.
Each has a living room, kitchenette, bathroom and bedroom. It is a wooden structure, with Hardie board siding, mounted on flat concrete slabs. The kitchens are equipped with electric stoves, refrigerators and microwaves. Residents will walk on vinyl plank floors beneath vinyl ceilings.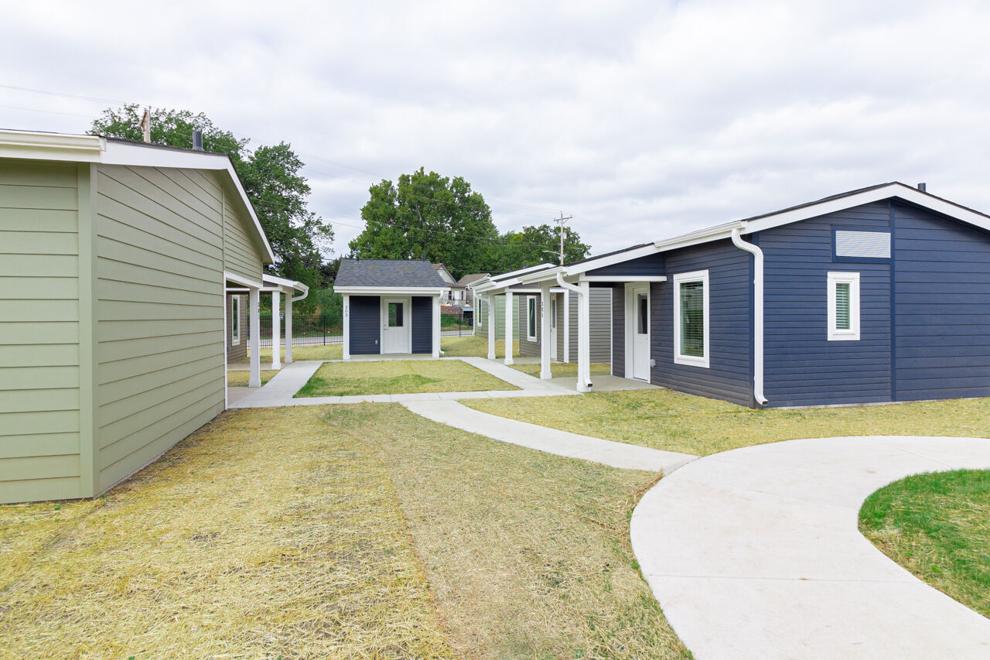 "They're no different than any other house built, just smaller," said Darren Smith, who owns Arch Icon with Mindy and Dustin Cook.
Each house also has a covered porch. They differ in shape and color: dark blue, olive and light grey. They are arranged in groups of four, facing each other around patches of grass. The clusters of houses are connected by curved piers.
"We didn't want to line them up like barracks," Smith said.
It is a gated community. People will have to have card keys to access it.
As he walked along the main pier Thursday, Twomey noticed a pavilion near one end and, at the other, a community center that doubles as a storm shelter, with a common room, free washers and dryers and hookups for barbecue grills.
"It feels friendly, and it doesn't feel sterile to me," Twomey said.
She said people who would live there are talking about putting plants on their porches and perhaps growing tomatoes. She is looking forward to seeing how people develop the community there.
Keith Neal, a 64-year-old former maintenance worker, is looking forward to having a space and place of his own. He is also looking forward to cooking his first breakfast there in the morning, after not being able to hear his neighbors snoring through the apartment walls.
"I'll cook bacon and eggs," Neil said. "And open the windows so the smell of bacon will waft through the neighborhood."
The development cost is $8.8 million. Funding came from a variety of sources, including about $7 million in state and federal low-income housing tax credits, as well as assistance from the city of Omaha.
Arch Icon came up with the concept in 2015, then showed it to Twomey in 2018, and began working with the city about a year later, Smith said. Coronavirus has slowed things down a bit. It took some time to put together the funding, although the Nebraska Investment Finance Authority embraced the idea.
"After five years, it's finally over," Smith said.
Moving day is near for Neil and the other people who will make the houses their homes.
"I'm looking forward to it," he said, wearing a T-shirt and sitting on an upholstered chair in a house. "I'm looking forward to the different challenges of being here."