The Cove at Dundee Tiny House Project Opens Final Homes for Homeless Veterans | Community | Savannah news, events, restaurants, music
On November 10, the Chatham-Savannah Authority for the Homeless (CSAH) in partnership with the National Society of Colonial Dames of America (NSCDA) opened the last of 12 homes at The Cove in Dundee for veterans exiting homelessness.
This latest phase of the Cove neighborhood marks the completion of a 46-home community that includes a J.C. Lewis Health-designed microclinic, a veterans park, a chapel and outdoor pavilion, and a landscaping project sponsored by the Home Depot Foundation. As of 2019, it was the first tiny home community approved for development in Georgia and financed entirely privately.
"Today is the culmination of the community's work, making private investments so the entire small veterans community was built with donor dollars. There are no federal, state or local government funds tied up in this community," said Jennifer DuLong, executive director of CSAH. "About $3.2 million in private donor and foundation money has been spent building this community."
There are many reasons why a veteran may experience homelessness. Trauma, life experiences, mental health and lack of family support are all on the list, DuLong said.
Click to enlarge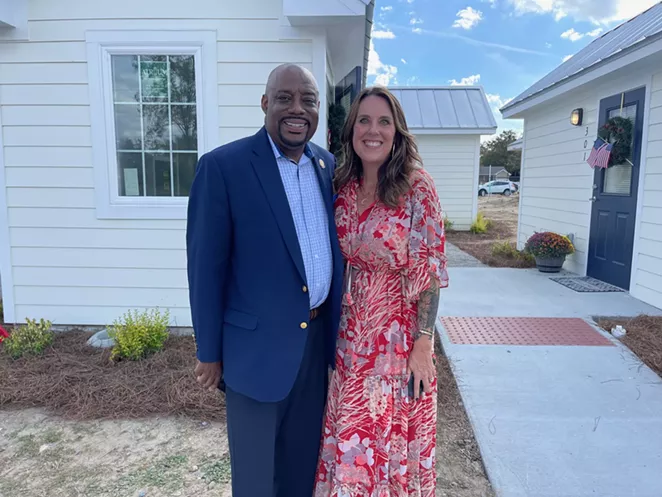 "Savannah has a responsibility to every person within our doors. Those with a home and those without a roof over their heads. As the beloved community we strive to be, and as the hospitality community we claim to be, we must first show hospitality to those within our gates," said Mayor Van Johnson. .
The Cove at Dundee provides housing exclusively for veterans.
"There is no greater service than service to our country, the men and women who have given their lives, and we actually have 36 people living here now and three couples living in 123 square feet. So living in a tiny house as a couple is an accomplishment in itself, but housing is the answer to homelessness."
LeMarsha Coleman and her husband are one of those couples. Originally from New York, they have lived in Savannah for seven years and in the Cove for two years.
"Quiet," Coleman says of the community, who describes her home as peaceful with good neighbors. "It's cramped, but livable," she said.
Click to enlarge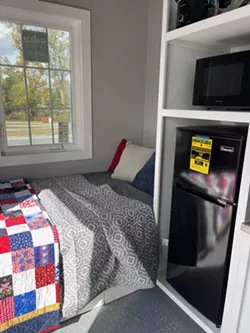 "I'm grateful for this because I didn't know where I was going," Coleman said. "It's like a stepping stone for people (veterans) who are getting out of the service and going out on their own. That's basically how it is with us. It's a little stepping stone, you know, step back a little bit and then down the line, you'll just get your own (home)."
DuLong believes the problem of homelessness can be solved by providing affordable housing opportunities. "The maximum amount of rent that anyone can pay here is $400 a month, and that is a reasonable price," she said. "Two-hundred and forty is the minimum amount of rent, and that includes all the utilities. And in this community, there has never been any eviction, so "Everyone is settled stably here. Some people have been here for up to five years. We have no limits on how long people can live here. No matter how long one needs to settle down in life."
Dundee Bay may be complete, but a nearby project is already underway. Dulong is building forty neighborhood homes for families and children emerging from homelessness. "It's larger iterations of tiny homes. So here in the city of Savannah, we'll have 86 tiny homes for people who need to get out of homelessness. Housing affordability, housing access, housing stock is a critical need in our community, it's a critical need throughout USA Tiny houses are also very affordable to build.

To learn more, visit www.homelessauthority.org.
(Tags for translation)News