Small townhouse proposed for Christina Street in Sarnia
Sarnia could have its first micro housing units by 2025.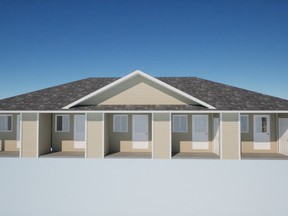 Article content
Sarnia could have its first micro housing units by 2025.
Article content
Habitat for Humanity is proposing a tiny house — five single-story, 36-square-meter (390-square-foot) units built at ground level — for 236 Christina St. S., said David, CEO of Habitat for Humanity Sarnia/Lambton. waters.
Article content
"Every time we decide on a building project and we have a property, we try to maximize that property," Waters said, noting that the parcel of land south of Talford Street, which Habitat acquired in 2018, had been eyeing the construction of tiny homes for years.
"It's about housing more people, housing more people affordably," he said.
Other communities have built similar structures, but this will be a first for Sarnia, he added.
City staff is recommending approval of the council's Official Plan amendments and the project's requested rezoning when the matter is discussed on Nov. 20.
Article content
"We hope to build it tomorrow," Waters said, noting that Habitat has heard only positive feedback through public consultations so far.
"We hope that maybe, over the coming years, we can acquire more properties along the same strip… (to create) some affordable small homes," he said, noting that there are some rundown homes in the area and it is not clear whether Was she busy or not?

The units in the tiny house will be long and slim, with one bedroom, one bathroom, possibly a pull-out bed, and a combined mechanical room for heating and cooling, he said. A canopy on each balcony will serve as a divider between the entrances to the unit.
Habitat plans to furnish the units, he said. This is "something we don't generally do, but it's very unique and we want to make sure we put the right furniture in the right space to maximize the space."
Article content
They will be built using insulating concrete blocks (ICF), he said, describing them as Lego-like foam blocks, which when filled with steel reinforcing bars and cement, provide good insulation.
"This house, we will build it from floor to ceiling using .
Under the plan, each unit will have its own parking space.

Construction could cost about $80,000 to $100,000 per unit, Waters said.
"By the time you get all the extras, utilities, water supply and fencing, it can be about $750,000," he said.
Habitat is now building a duplex on Emma Street in Sarnia, and plans to build two single-family homes on Gray Crescent next year, he said.
"We should be able to finish (Christina Street) in 2025 as long as (Gray) next year goes according to plan," Waters said.
tkula@postmedia.com
Editorially recommended
no one

Habitat's CEO says tiny homes are possible in exchange for donated land

Habitat for Humanity is building four homes in Kettle and Stony Point