Rents in Greenwich 2023 – Market still tight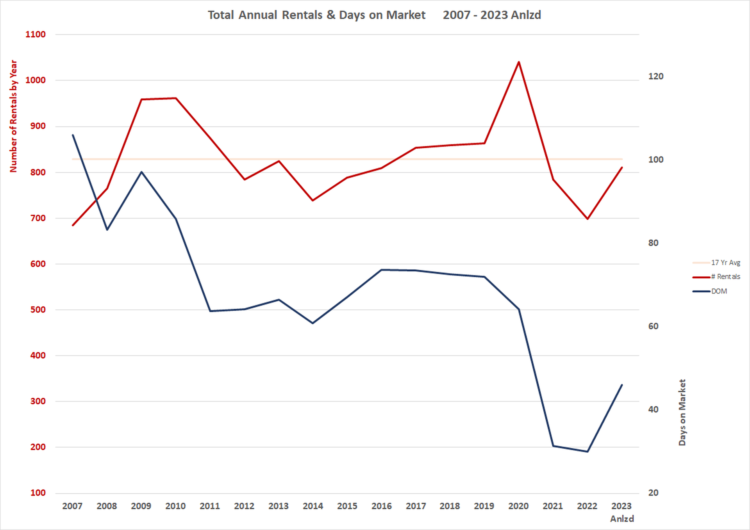 Written by Mark Bruner
Rents are back to average, well, almost. What roughly comes back to average is the number of rentals reported in the Greenwich MLS. So far this year, we have had 676 rentals through the end of October. If you calculate this number annually, you would likely get 811 rents for the year. This compares to an average of 829 rentals per year since 2007. So this year we are looking at 98% of our 17-year average. Considering what we've been through, the average is good.
Going back to 2007, we went through four "abnormal" periods. Two up and two down. In decades past, people were buying instead of renting. In 2007, we had just 684 rentals, which was 17% below the average over the next 16 years. Rents rose in 2008 and then rose in 2009 and 2010 with 959 and 962 rentals in those two years. When people feel uncertain, they rent rather than buy, especially after we have seen one of the few declines in housing prices in the past 50 years.
As people started to recover from the Great Recession, we saw seven years of "normal" rents close to the median rent of 829. Then Covid came, and rents skyrocketed. In 2020, we had 1,041 rentals on GMLS, which is 26% more than average. We could have had more, but there were very few people who wanted to rent out their homes and condos. Having said that, a few hundred homeowners who had never thought about renting their homes decided that at the rental prices people were getting, they could spend time in their second homes and rent out their house in Greenwich.
Our rental inventory has come back strong. At present, we have 137 rental listings in the Greenwich MLS. This is up from the 108 listings we had in February of this year and up from just 42 rental listings we had in April 2020.
You would think that with more listings we would see our days on market go up, and we do, but it's still low. In 2021 and 2022, rentals were on the market for only 30 days on average. So far this year, we're looking at a DOM of 46. That's a big jump up, but the 17-year average for a DOM is 68 days on market. Yes, we have more supply, but we also have more demand. When economic times are unstable, people rent. What is unusual is that our single-family home sales market is simultaneously tight due to record low inventory.
In 2020, we saw rents jump from $4,000 per month to over $20,000 per month while rents under $4,000 actually declined. Most rents under $4,000 are apartments and other smaller rentals, often with shared hallways and elevators, which people didn't want during Covid, so rents under $4,000 actually went down during Covid. Nearby accommodations during Covid weren't the only reason for the decline in sub-$4,000 rents. Rents below $4,000, especially below $2,000, have also decreased due to rising rental prices. In 2019, we had 71 rentals for less than $2,000. If you evaluate this year's annual rents at less than $2,000, you get only 22 rents, a decrease of 69%. (Note: This price category is always a problem with a lot of lower-priced rentals in Greenwich not being listed on the MLS.)
At over $20,000 a month, we had 18 rentals in 2019. The next year, that jumped to 71 rentals, an increase of 294% in one year. High-end rents fell to 52 rentals in 2021 and 47 rentals in 2022, remaining high but somewhat stabilizing. This year, we're on pace to hit 60 rentals worth over $20,000 a month. Part of this is that many people who wouldn't have thought about renting out their homes before Covid are finding that an extra $240,000 to $540,000 to rent out their high-end home for a year is nice. So far this year, our highest long-term rental price has been $45,000 per month. We also have seven summer rentals ranging from $45,000 to $60,000 per month.
One of the other things we're seeing with more work from home is that summer rentals may now start in May and continue through September as people who spend the summer in Greenwich don't have to go to their offices in New York City as often. We've also seen a few vacation and winter rentals, where snowbirds who are in Florida for the winter rent out their homes for the holiday season from November to January or throughout the winter. (One advantage of writing this column is that you can make up names like "Wintergreen Rentals" :)).
Our rentals are concentrated in our smaller areas. Of course, part of this "concentration" is an optical illusion, as the 14 lots in an R-12 zone can fit within the size of a block in an RA-4 zone. Having said that, we have four areas where our rentals are concentrated: South Post Road (25%), South Parkway (16%), Old Greenwich (15%), and Cos Cob (12%). Oddly enough, Riverside has about half as many rentals as Old Greenwich, with 57 versus 101 rentals so far this year.
Rents in Byram and Pembrwick have also risen this year compared to the 17-year average. On the downside, Riverside and South Parkway have seen rents decline this year compared to the 17-year average. What this means is that we have more rents this year in our more affordable areas and slightly lower rents, on a percentage basis, in two of our upscale areas. However, rents in outlying areas are up 40% this year compared to the 17-year average. Central Greenwich still houses many of our rentals, and that has not changed this year.
We have more rentals than this, but our days on market are still historically low, so finding the perfect rental is still difficult. (Anyone who wants to rent an apartment downtown, contact me or your preferred agent.) Hopefully 2023 will be the transition year when we see things return to normal in 2024.
Mark Bruner is a sales executive and part of the Greenwich Streets team at real estate firm Compass. He can be reached at 203-817-2871, mark.pruner@Compass.com or at his office at 200 Greenwich Ave.