IIn the late 1920s, invitations to Hearst Castle were coveted. Hollywood's elite – a mainstay in newspaper tycoon William Randolph Hearst's estate – boarded a train from Los Angeles at 6:30pm on Friday and arrived in San Luis Obispo around midnight. After breakfast, limousines arrived to take them 45 miles northwest of San Simeon, a small town along California's central coast.
From there, the journey continued on a dirt road that climbed through the nearby foothills of the Santa Lucia Mountains. Depending on the clouds, guests may glimpse "The Castle" on a hill overlooking San Simeon Bay, but they'll also likely see American bison, white fallow deer, kangaroos and other herbivores roaming the hills. More animals, including cougars and chimpanzees, appeared at the roadside zoo as the trip continued.
It was Hirst's version of shock and awe, and the animals were just the beginning. On the estate, classical art greeted visitors at every turn — and continues to do so today — on display in the two swimming pools, the 120-acre gardens, and the interiors of Casa Grande, the estate's cathedral-like main building. Hearst Castle also had a library filled with more than 5,000 books, a 53-seat indoor movie theater, and later an airstrip.
To receive the summons, guests must be interesting, or at least entertaining. Charlie Chaplin was a favorite, as were actors like Clark Gable, Carole Lombard, Cary Grant, and Joan Crawford. However, the guest book at Hearst Castle was not just someone from Hollywood. Winston Churchill accepted Hearst's invitation, Amelia Earhart traveled to the farm, and H.G. Wells made his way to the farm. Hearst expected visitors to swim, play tennis, ride horses and enjoy the outdoors.
Cara O'Brien, museum director at the Hearst San Simeon Historic Monument, says Hearst built his house so he could entertain alongside his mistress, Marion Davies, but he also saw it as an opportunity to educate his guests about the buildings' architecture, and his own exquisite style. Art collection and land.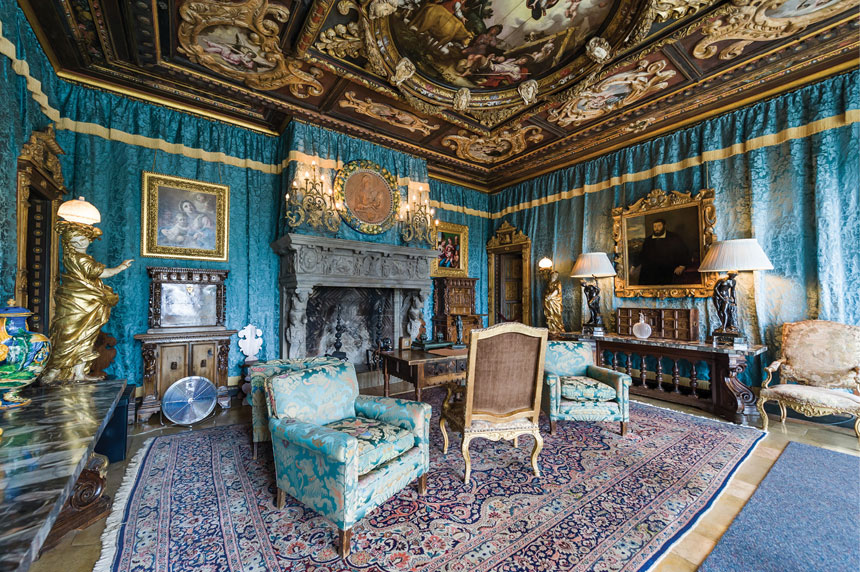 "This is a wonderful building, filled with amazing artwork, on the most picturesque part of the California coast," O'Brien explains. "It's a great story and a lot of history and artwork."
The story of Hearst Castle begins with Hearst's father, George Hearst. A miner who made a fortune in minerals from three of the country's largest strikes, as well as a businessman and, later in life, a U.S. Senator, George purchased 40,000 acres of ranch land near San Simeon in 1865 when he His only child is still a toddler. The two would often camp where the "WR" would eventually be built.
"I love this farm," Hearst wrote as an adult to his mother, Phoebe. "This is wonderful. I love the sea, the mountains, the holes in the hills, the shady places in the streams, the beautiful old oak trees, even the hot-brush hillsides – full of quail – and the canyons – full of deer. It's a wonderful place. I'd rather spend a month on the farm than anywhere in the world."
Although George hoped his son would join him in the mining business, Hearst begged his father to give him control of a newspaper that the elder Hearst had won by gambling. It was the beginning of the younger Hearst empire. Shortly after taking control San Francisco ExaminerHearst bought his second newspaper, the New York Journal.
During his life, Hearst collected more than twenty newspapers, launched magazines, and acquired others, including… worldwide And Good housekeeping. He added radio stations to his media portfolio and established a film studio as well as a book publishing division. Rich in its own right, William Randolph Hearst inspired Orson Welles' classic 1941 novel Citizen Kane.
But Hearst struggled to manage his money, according to O'Brien. He did not understand the concept of budgeting and borrowed money to pay off or refinance his debts, so despite his wealth, he could not build a huge property on his own. He needed his father's money.
When George died in 1891, he left his fortune to his wife Phoebe, Hearst's mother. Victoria Kastner, former Hearst Castle historian and author of Julia Morgan: An intimate biography of the pioneering architectPhoebe says she unwittingly played a role in the building of Hearst Castle by paving the way for him to meet Julia Morgan, the woman who became the architect behind Hearst Castle.
In a presentation to the Hearst Castle Preservation Foundation, Kastner shared how Phoebe funded the first international architecture competition in history in 1896. The prize was a commission to design several buildings on the UC Berkeley campus.
It's not clear when Phoebe met Morgan, who studied civil engineering at Berkeley before becoming the first woman to graduate from the architecture school of the famed École des Beaux-Arts in Paris. However, the winner of the Phoebe competition, Emile Pinard, declined to be appointed supervising architect, so John Galen Howard (who had originally placed fourth) took the position, and Morgan was appointed superintendent of the construction of the Greek Theater. The role would have brought her into contact not only with Phoebe, but also with William Randolph Hearst himself, as he donated money to the theater and attended its grand opening.
Regardless of when they met, Kastner says, Morgan became "the Hearst family's royal architect" after establishing her own firm in 1904. One of her first residential commissions was to complete Hacienda del Pozo di Verona after the architect of record's death, a project that in some ways foreshadowed Areas of Hearst Castle.
As Kastner explains, Hearst asked his mother if he could build a house on another family ranch in Pleasanton, California. Phoebe agreed, but knowing her son's problem with money, she warned him to keep the project under control. Hirst could not restrain himself. By the time Phoebe visited Hacienda del Pozo di Verona, the house already had more than 50 rooms. Angry, she confiscated it.
Undaunted, Hirst continued to turn his attention elsewhere. He continued camping at Saint-Simon Ranch, bringing his five sons to the same place he stayed with his father. They slept in tents, but Hearst wanted more permanent accommodation at Camp Hill. After what happened with Hacienda del Pozo di Verona, Phoebe was understandably opposed to this project.
Then, in 1919, Phoebe died of the Spanish flu. With no one to hold him back, Hearst wrote to Morgan: "Mrs. Morgan, we are tired of camping out on the farm at San Simeon and I would like to build a little something."
Walter Steelberg, a draftsman in Morgan's office when she met with Hearst to discuss his hilltop property, revealed in later interviews that the media mogul initially requested a simple ranch-style home with three bedrooms and two bathrooms. But the plan developed quickly. Inspired by the European tour he had taken with Phoebe when he was 10, Hirst asked Morgan to design a Spanish Renaissance village overlooking the estate, which had by then expanded to 250,000 acres.
On top of the hill, Hirst envisioned a main house similar to the cathedrals he had seen in Spain. Paths ran from the house, through the elaborate Italian and Spanish gardens to the three surrounding country houses, where he could accommodate guests. Additionally, he had plans to display his fine art collection. Hearst laid the cornerstone of what he called La Cuesta Encantada—the Enchanted Hill—in the fall of 1919.
Kay Brynildson, a tour guide at Hearst Castle, says Morgan immediately put her civil engineering degree to use. Since the family rode horses to Camp Hill, they began building a road, followed by a hydroelectric plant to deliver water to the site. As the work progressed, she addressed the sewage, electrical and plumbing systems. Later, she designed not only the buildings but also the project's gardens and interiors.
"Julia was absolutely involved in every aspect, as was WR," says Kastner, adding that they were constantly discussing ownership.
When the two leaned over the drawing board, Steelberg recalls, everyone could have been a hundred miles away, and he swore he could see creative sparks flying from one front to the other. On weekends when Morgan stayed at the estate, Hearst would always sit her next to him at dinner so they could continue their conversation.
But their like-mindedness does not mean that Morgan always agrees with Hearst. "She didn't say no, but she talked him out of things," Brynilson explains. It was diplomacy. "They had heated discussions, but they never raised their voices, they never argued."
During their 28 years of working together at Hearst Castle, they had many opportunities to debate. For starters, Hirst owned only 5% of the existing art collection before 1919, and was constantly buying up pieces he wanted to display on the estate.
"Things come in, but they're never the right size and have to be integrated into the structure," Kastner says. For example, the ceiling in the dining hall arrived as a row of 16th-century Italian wall panels that had to be assembled into a rectangular shape and then extended with additional pieces to fit the 72-foot ceiling. The choir stalls had to be extended along the walls of the dining hall similarly, and the fireplace in the room was originally only 11 feet high. Morgan used concrete to give it more height.
In addition, Hearst suffered from what Morgan wrote was "a severe case of altered mind." He twice redesigned the Neptune's outdoor pool after it was initially installed, and twice ordered the Casa Grande's roof raised. The corridors have been widened. The gardens have been redesigned. According to Brynildsson, one of Hearst's sons claimed that if Hearst had lived twice as long, his estate would have been twice as large and still incomplete.
In 1937, Hearst's poor money management skills caught up with him. He was forced to give up control of Hearst shares and sell his personal assets, including his castle in Wales and part of his art collection. He also had to suspend work on Hearst Castle.
But as his fortunes rebounded, work resumed until 1947, when the 84-year-old left to be closer to the medical care he needed. Recognizing the architectural, cultural, and historical importance of La Cuesta Encantada, Hearst offered the property to UCLA, but the university felt it could not afford to maintain the property. Then the state of California intervened.
In 1954, three years after Hearst's death, California agreed to manage La Cuesta Encantada as a state park and granted a land easement to protect the remaining 82,000 acres of the original range. The newly renamed Hearst San Simeon State Historic Monument began offering public tours four years later.
Today, visitors can see highlights on the Grand Rooms Tour, go behind the scenes on the Cottages and Kitchen Tour, and learn more about Morgan, California's first female licensed architect, on the Julia Morgan Tour. O'Brien recommends taking a tour of the upstairs suites to see the Gothic Wing, her favorite room because it is where Hearst wrote his daily column under a decorative ceiling that Morgan designed especially for him.
"I think when we look at his castle, we see his whole life story," O'Brien says. "We see his love of camping here, his appreciation for architecture and art that he saw when he went to Europe with his mother, and recreation. The man is inseparable from place.
Theresa Beutler is an award-winning travel writer whose work has appeared in National Geographic Traveler, TripSavvy.com, USA Today Top 10, Wine Enthusiasts, AAA Publications, And others.
This article appeared in the September/October 2023 issue of Saturday Evening Post. Subscribe to the magazine for more art, inspiring stories, fiction, humor and features from our archives.
Become a Saturday Evening Post member and enjoy unlimited access.
subscribe now