When it comes to kitchen cabinet trends, we see designers taking these elements in one of two directions. On one side of the coin, cabinets are becoming more discreet, camouflaged in a space in such a way that the functional nature of your kitchen is hidden from view – creating simpler kitchen spaces. Cabinetry, on the other hand, has become more decorative, with many more options now available than a basic slab or Shaker-style door.
While these modern kitchen ideas may seem at odds with each other, they achieve the same end goal – they make these kitchens look expensive. If you're looking to lift your kitchen cabinets when planning a remodel, here's what interior designers say you should do.
1. Think "invisible" kitchen storage.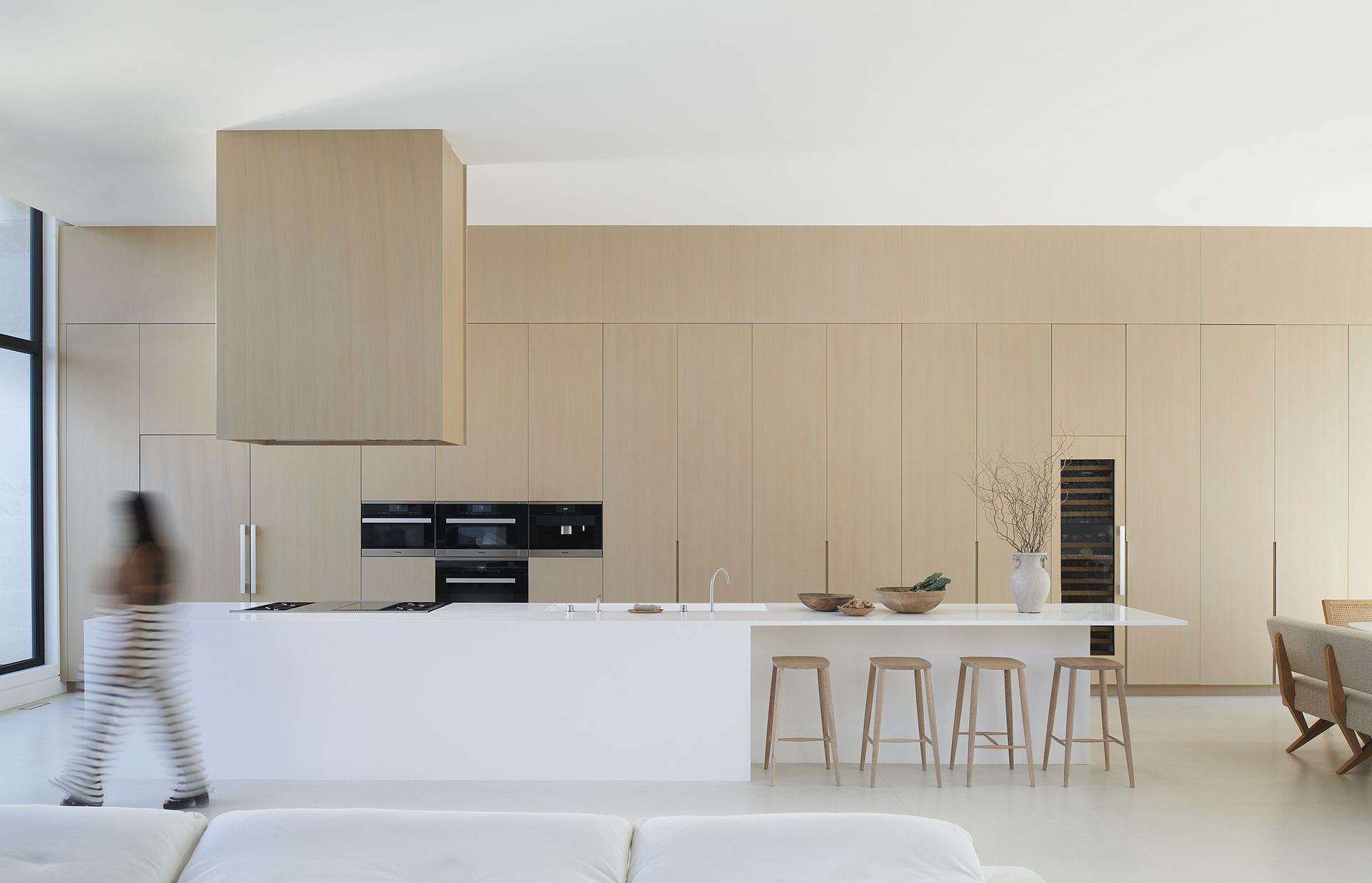 If you're remodeling a kitchen and wondering how to make the space always look clean, tidy and organized, a great way to do this is with hidden storage, which has a seamless exterior. By mixing all the cabinets together in one material, you can make the room look upscale and sophisticated.
"In all kitchen designs, our first focus is beauty and storage, and this kitchen has both," say Veronica Martin and Carrie Stinson, founders of Two Fold Interiors. "This kitchen was designed as a quiet backdrop to the main family room with a place for everything behind closed doors. Cabinets hide multiple work areas for a kitchen prep, storage and a hidden bar. Then in the evening, when all is quiet in the house, the doors close, and it transforms into a beautiful full-height wall Of white oak boards.'
2. Select multiple islands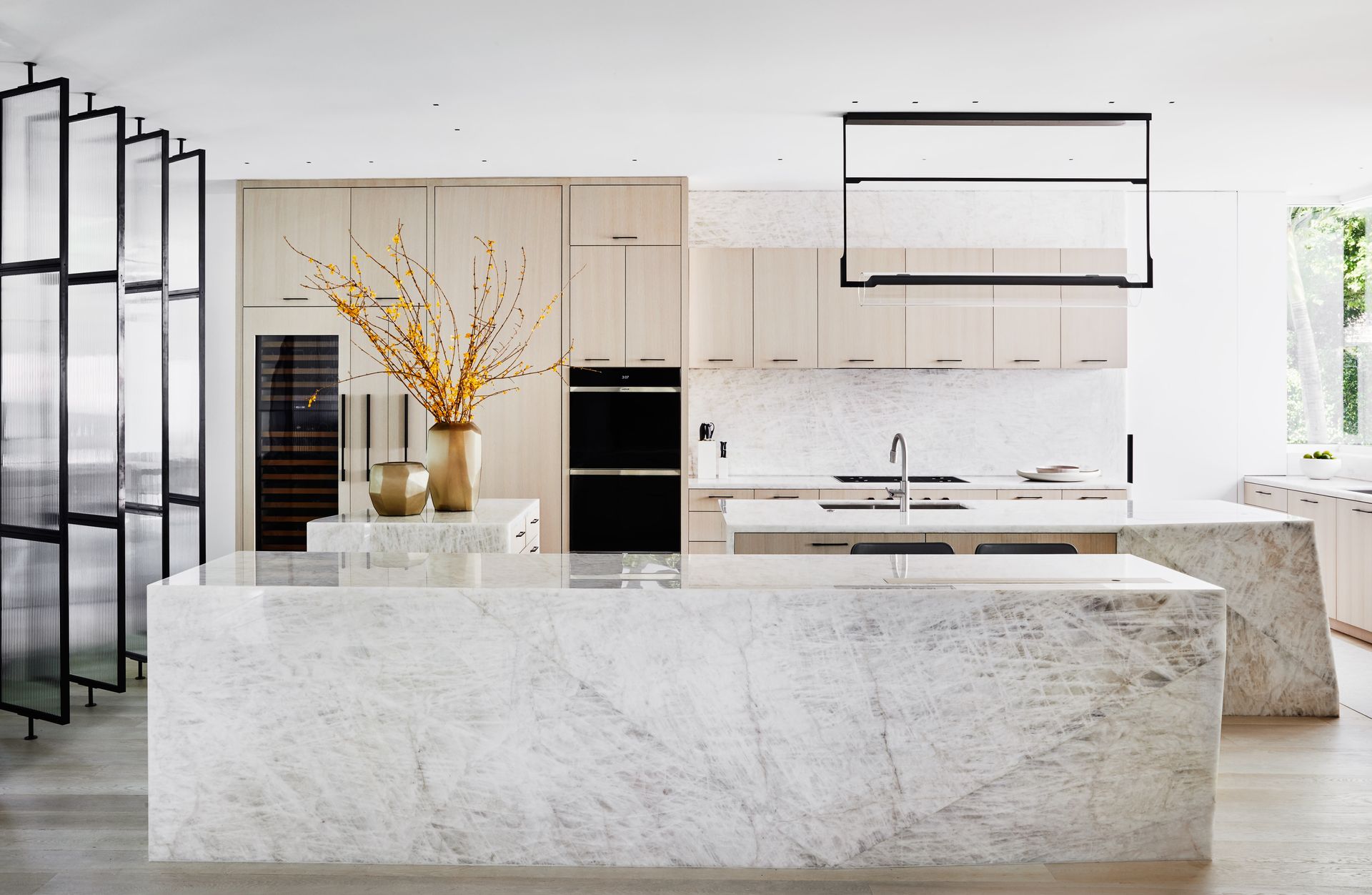 Not only do kitchen islands form a centerpiece for your space, providing extra space for prepping, chopping or cooking, but they also provide more storage opportunities. If you have a large enough kitchen, consider creating multiple islands that will give the room a great look and allow you to store many supplies and miscellaneous items inside.
"In this project, side-by-side storage solutions were developed for how the client cooks and entertains in their home," says Zachary Helmers, associate director at Workshop APD. "The multi-island configuration includes multiple zones with each island having its own unique primary function. The sink island is designed as a standard chef's kitchen, providing a large sink and access to cooking utensils, pots, pans, and spices. The smaller island serves as a grocery repository as it enters the kitchen While you also store silverware and dishes.Finally, the island up front is strictly for entertaining.It hides a wine/beverage refrigerator, ice maker, bar tools, and liquor storage, while supporting an integrated ice tub for drinks in the island behind.
Remember, if you are choosing multiple islands, consider a unified material for all of them. Marble or textured wood can look elegant, giving the room an expensive feel.
3. Choose the right finish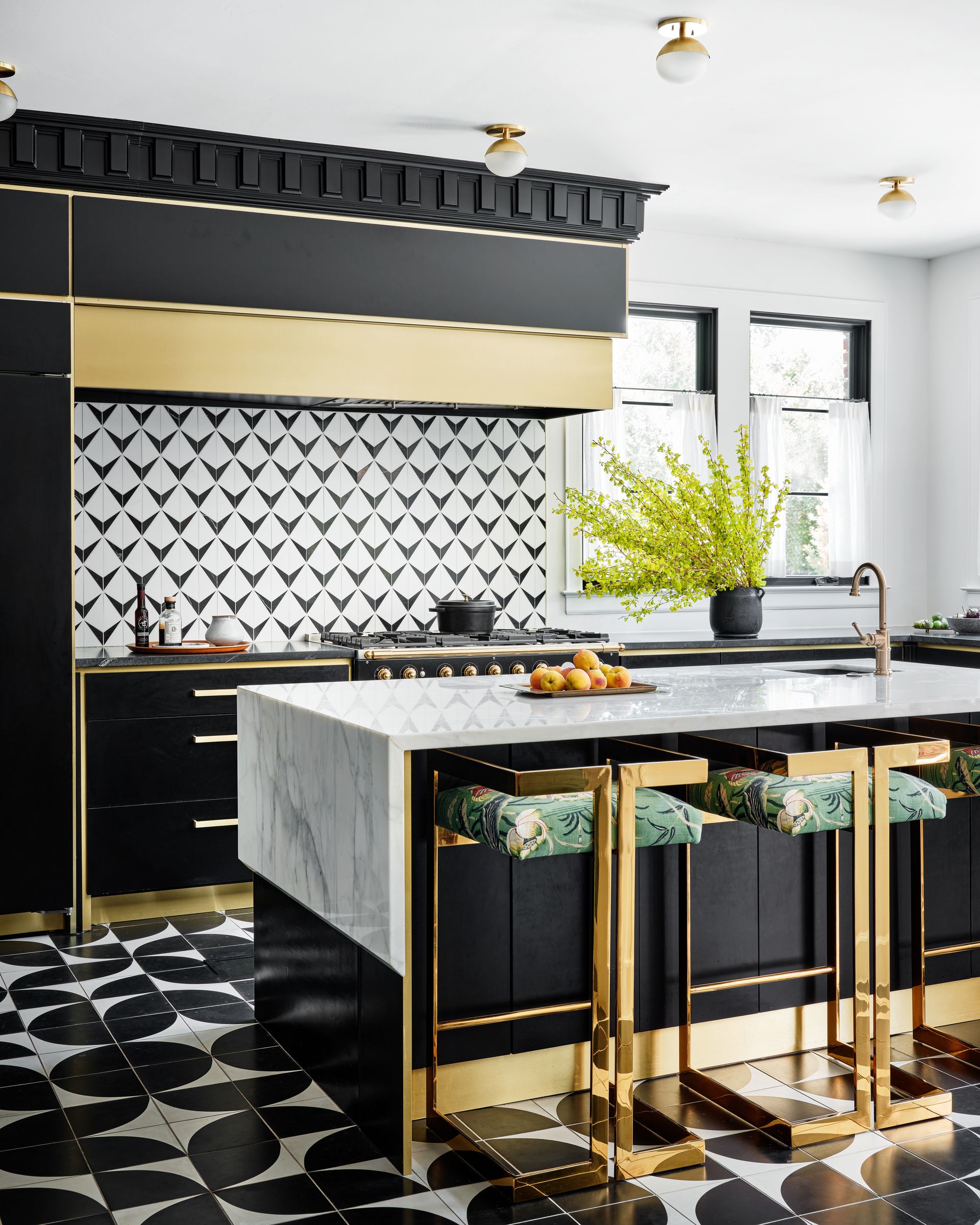 "Creating that wow factor in a kitchen depends on the materials you use and the finishes," says Katie Paulsen, interior designer at Maestri Studio. "Do you use matte or gloss in your paint and metal finishes?" Do you use polished or polished materials with your countertops and tiles?
"The cabinets in this kitchen are painted in the paint color 6989 Domino from Sherwin Williams," Katie adds. "It has a flattening additive in the finish to give it a matte shine that will never come off, making it ideal for drawers that will be constantly handled." Black and white color combinations are one of the best classic color pairings, and we chose to highlight them with gold for a bold, luxurious look that elevates the space.'
4. Choose backlit cabinets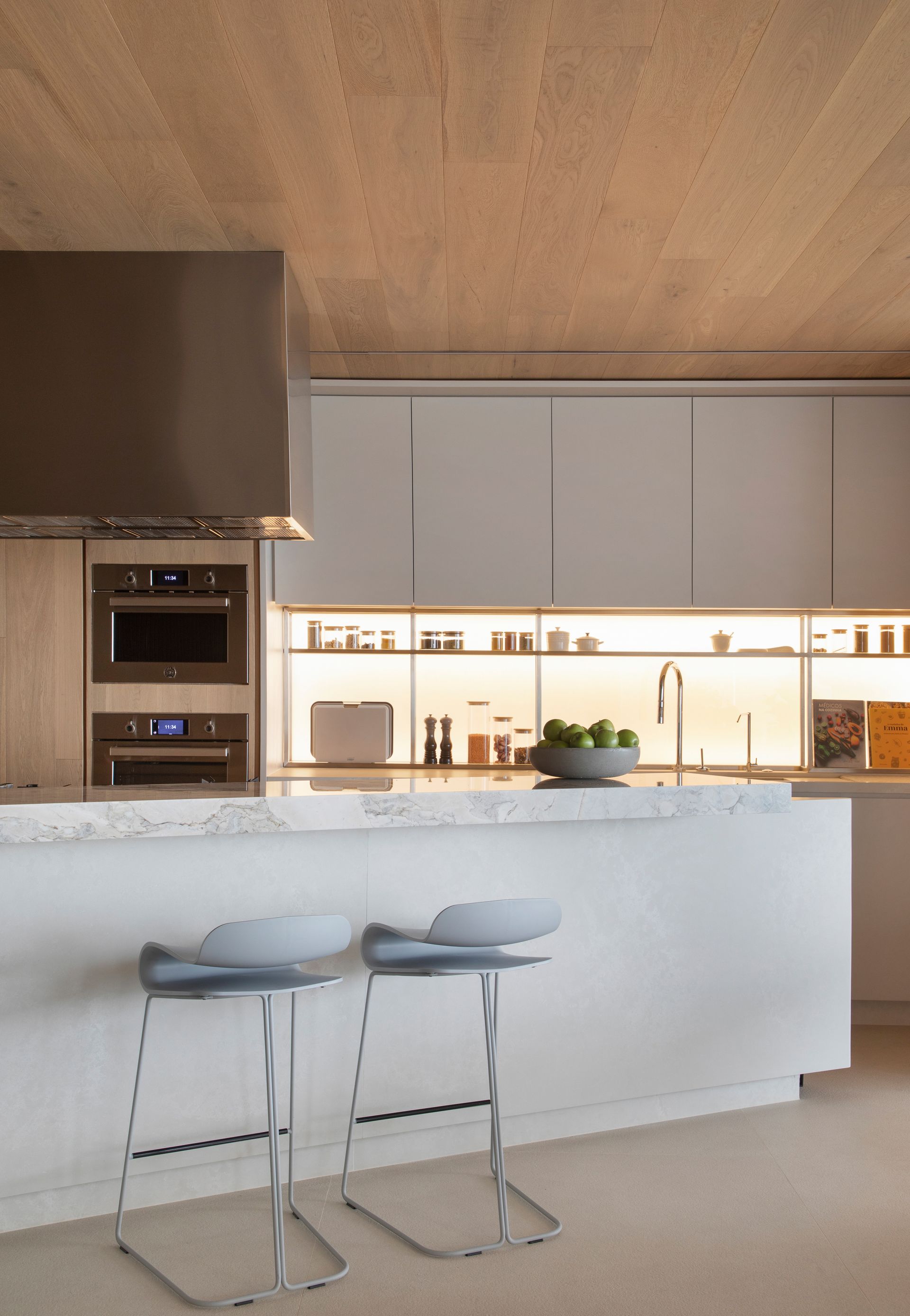 Make your kitchen storage a feature, and the focal point of this room with kitchen cabinet lighting. With a backlit cabinet, you can give an elegant touch to the room and showcase the best decor of your kitchen, as in this home designed by NJ+ Architects in Brazil.
"We wanted to make this apartment a second home for our clients, even though they no longer live in the city," says Nildo Jose Virginia Lopez, co-founder of NJ+ Architects. 'It was important that they feel that this apartment is also a home, and we did this through generous planning and layout of the interior spaces. We used neutral and natural materials, especially wood for the kitchen, and lit up the cabinets to create a warm feel.'
One thing to note is the keys to your kitchen cabinets. Make sure it is easily accessible but not for display. Hide it behind or under a cabinet, and install a dimmer as well if possible.
5. Choose decorative doors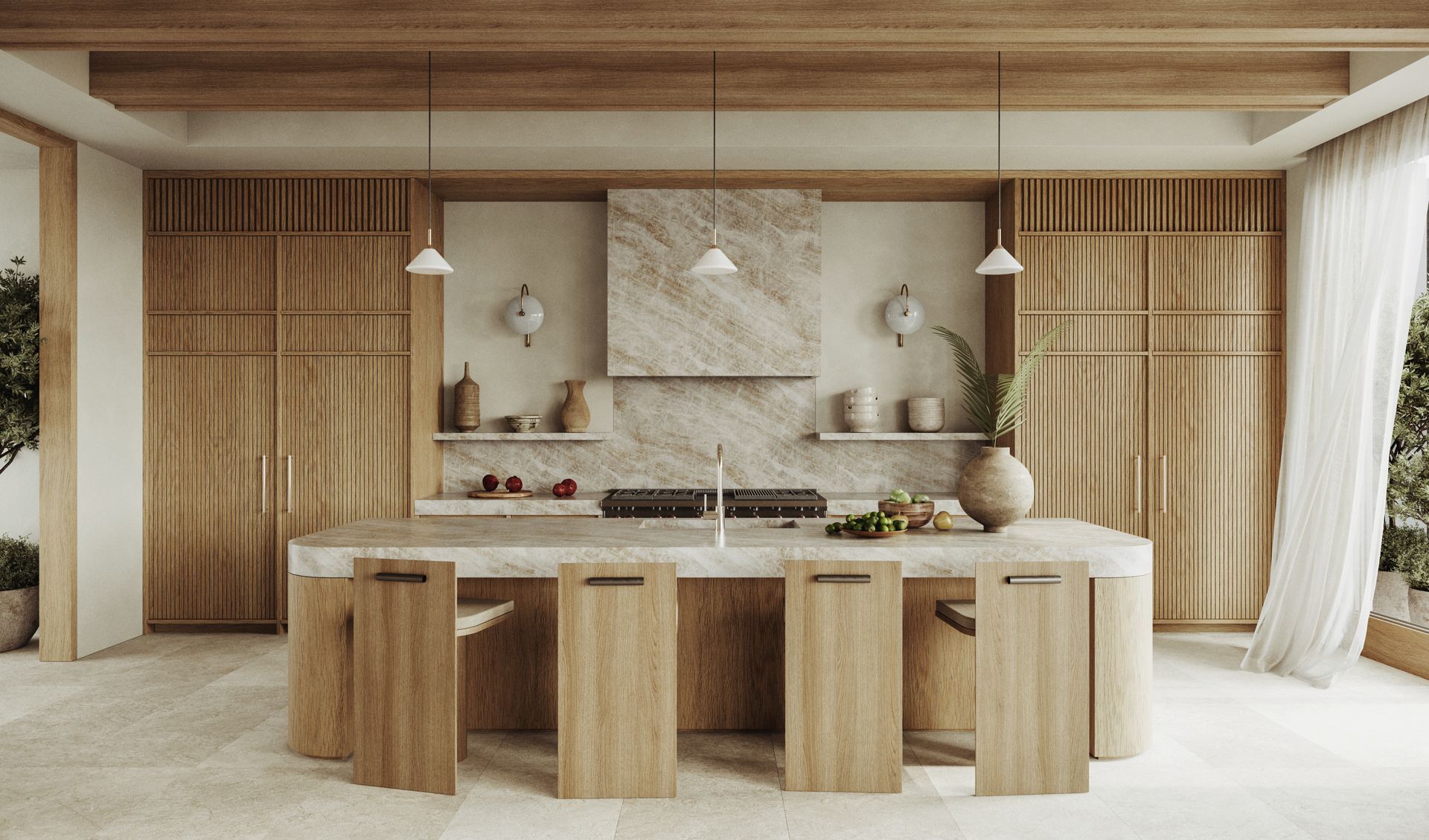 "One of the biggest tips I always share with my clients is to be inspired by nature, especially when it comes to the finishes of large-scale architectural elements, like cabinetry or flooring," says Jarrett Yoshida, an interior designer at New York's Brownstone. "In particular, wood with natural colors and finishes is a winner that evokes luxury, nature and tranquility on a grand scale."
In this kitchen designed by Noa Santos, fluted wood kitchen cabinets add movement and extra dimension to the space. Taj Mahal Quartzite adds layers and a touch of magic to a room. Muted flooring allows all the other organic elements to shine.
To add more charm to your cabinets, consider brass or silver handles that add a pop of color to a neutral space.
6. Choose custom corner cabinets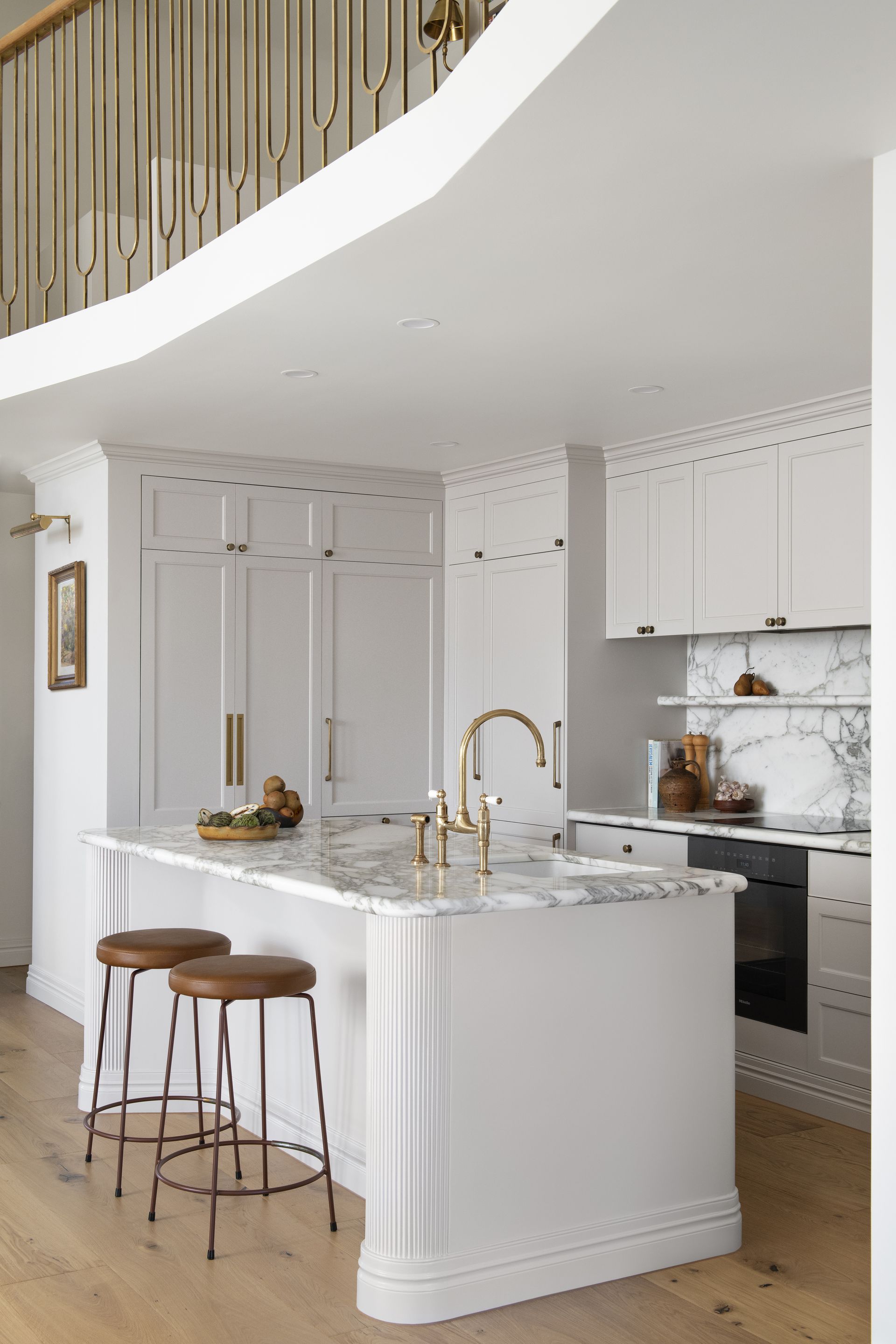 A great way to utilize the empty space in your kitchen is to use corner kitchen cabinets. In fact, choose a custom design that fits well with the overall look of the home, adding extra functionality to the room while hiding an overlooked spot.
"This kitchen was completely custom which allowed us to utilize every nook and cranny," says Ng Feathers, designer at The Stylesmiths. "Behind the wall is actually a staircase that wraps around the mezzanine above, so the wall that houses the European laundry (washer, dryer, space for a laundry basket and cleaning supplies) behind the full-height doors has a sloped ceiling. We used bi-fold pocket doors to allow our customers to access the washer and dryer easily 'Get bigger and use the shelves above for extra storage. The smallest space under the lowest slope of the stairs holds a pull-out laundry basket. We chose full-height doors across the entire wall to hide the fact that it's 'under the stairs' and create a more seamless look with the rest of the kitchen.'
"On the right is a retractable pantry unit to take advantage of the full depth of the narrow space required for the door clearance of the built-in refrigerator next to it."
3 products to upgrade your kitchen storage
He writes: Water based paint
price: $70 for 3.7 liters
LED motion sensor closet light
material: Aluminium
price: $33
Sumner Street Home Hardware