10 scenic Blue Ridge Road trips that should be on your bucket list
summary
The Blue Ridge Mountains offer stunning scenery and outdoor adventures, with scenic highways and charming mountain towns.

The Blue Ridge Parkway, Shenandoah Skyline Drive, and Newfound Gap Road are some of the most scenic road trips in the area.

Waterfall Byway, Daughter of Stars Loop, and Blue Ridge Whiskey Wine Loop provide opportunities to explore waterfalls, indigenous history, and regional flavors.
Blue Ridge – The name conjures images of undulating mountain views covered in blue mist, scenic highways winding through ancient Appalachian peaks, and opportunities for outdoor adventure around every turn. Stretching from southern Pennsylvania to northern Georgia, the iconic Blue Ridge Mountains offer stunning views and pristine wilderness in the eastern United States.
Throughout the Blue Ridge, scenic byways put travelers in the heart of the Appalachian highlands, offering nonstop views of forested slopes, cascading waterfalls and charming mountain towns. From the Shenandoah Valleys to the Great Smoky Mountains, the Blue Ridge has stunning landscapes worth exploring. Hop in the car and head out on any of these scenic road trips in the Blue Ridge Mountains and see why this part of America is loved.
RELATED: An Unforgettable Road Trip: The 10 Best Scenic Drives for Your Spring Break in the US
10
Blue Ridge Parkway
The scenic Blue Ridge Parkway is 469 miles long and offers countless views of the Appalachian Mountains
Blue Ridge Parkway in summer in the Appalachian Mountains
Stretching 469 miles from Shenandoah National Park in Virginia to Great Smoky Mountains National Park in North Carolina, the Blue Ridge Parkway is often considered one of the most scenic drives in the United States. Created to connect the Shenandoah and Smoky Mountains parks, the Parkway offers travelers countless views and opportunities to see the diversity of plants, wildlife, and geography along the way.
Some of the Blue Ridge Parkway's stunning stops on the way include the stunning architecture of the Linn Cove Viaduct, the Rough Ridge's panoramic views of Grandfather Mountain, and the vibrant purple rhododendron blooms of North Carolina's Craggy Gardens.
9
Shenandoah Skyline Drive
Located in Shenandoah National Park, 105 miles away, Skyline Drive's features 75 scenic views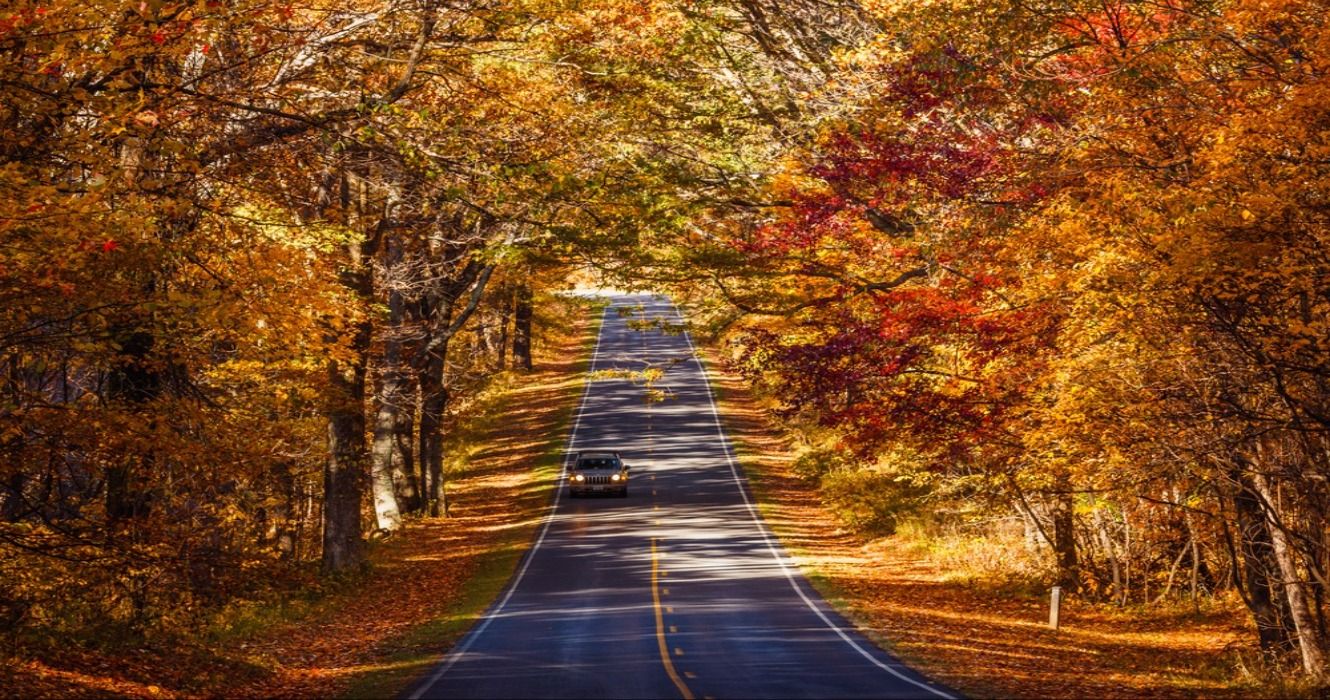 Car on a road surrounded by falling leaves in autumn, Skyline Drive, Shenandoah National Park, Virginia, USA
Located entirely within the boundaries of Virginia's Shenandoah National Park, Skyline Drive extends 105 miles along the ridges of the Blue Ridge Mountains. Visitors to this scenic route will immerse themselves in the natural beauty of the Shenandoah Valley, with 75 overlooks offering stunning views of the surrounding peaks covered in lush hardwood forests.
Don't miss the stunning views of Old Rag Mountain, the sharp granite peak of Hawksbill Mountain, and the cascading waterfalls of Whiteoak Canyon along this popular route. Stop to hike, camp, or take photos of wildlife like black bears, white-tailed deer, and more than 200 species of birds.
8
New Gap Road
This 33-mile drive traverses Great Smoky Mountains National Park, offering wildlife and historic sites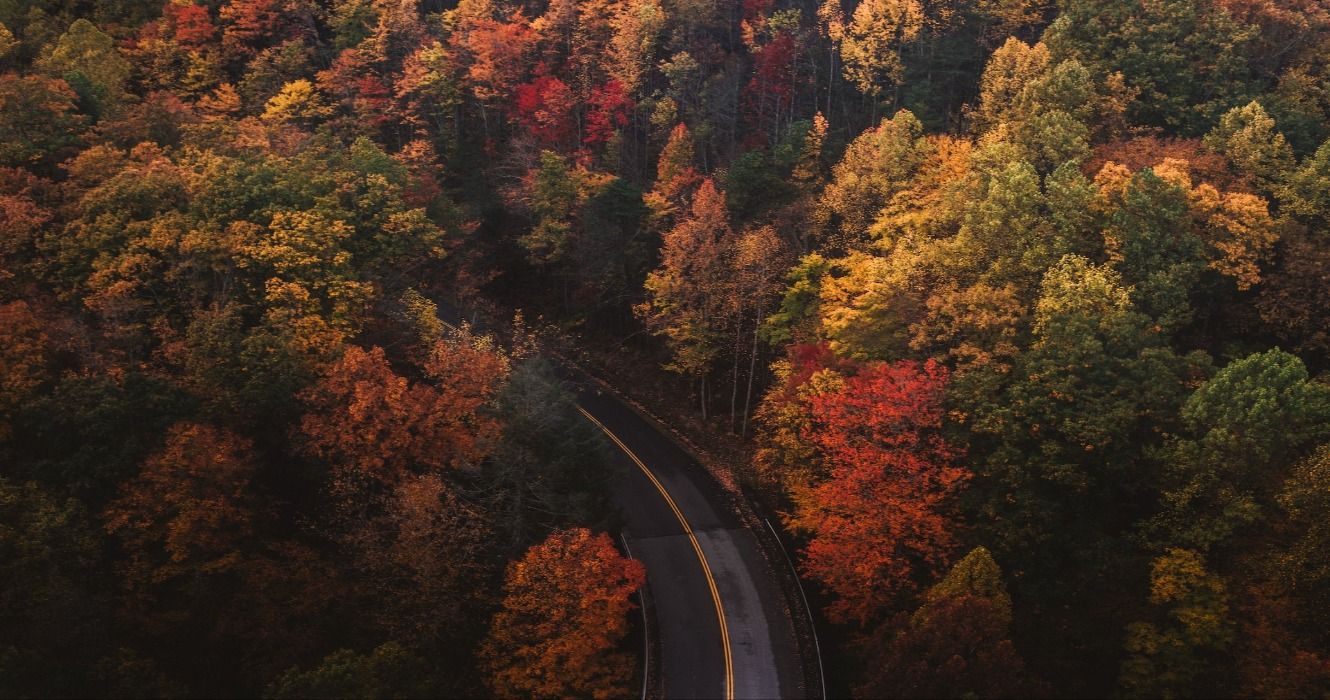 A road lined with colorful foliage in Gatlinburg, Tennessee, Great Smoky Mountains National Park, United States
This 33-mile scenic drive travels through the heart of Great Smoky Mountains National Park, crossing the state line between Tennessee and North Carolina (it's one of North Carolina's many amazing scenic road trips).
As the route passes from Gatlinburg, Tennessee (Gatlinburg also offers several scenic drives) to Cherokee, North Carolina, travelers will pass historic log buildings from pioneer settlements, traverse the 5,046-foot Newfound Gap, and have the opportunity to catch a glimpse of black bears and elk and other wildlife native to the lush mountain environment. Highlights include scenic stops at the Rockefeller Memorial and the Oconaluftee Visitor Center featuring mountain farm exhibits.
7
Forest Heritage Trail
This 79-mile route through the North Carolina mountains features waterfalls, historic sites, and trails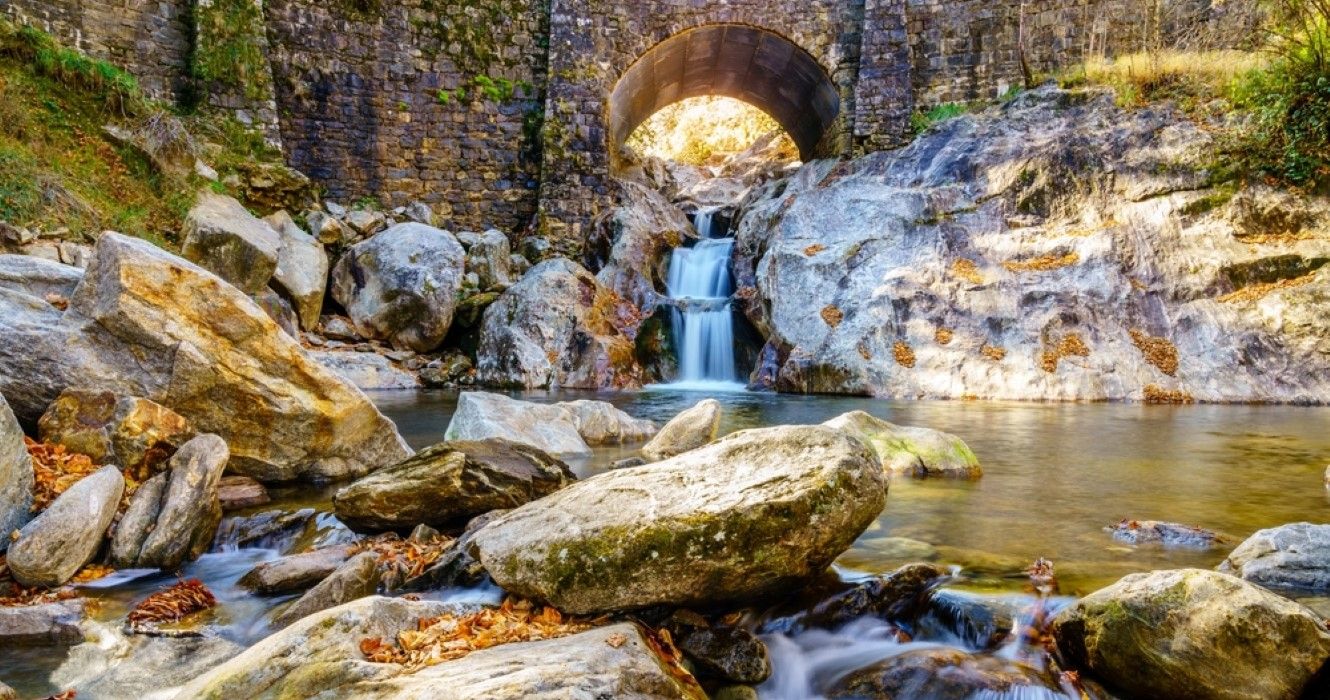 A waterfall along the Scenic Forest Heritage Trail in North Carolina
The Forest Heritage National Scenic Byway extends 79 miles through the mountains of western North Carolina, passing through national forest lands filled with beauty and recreational activities.
Along the way, trailblazers will pass historic logging areas and turn-of-the-century railroads, cross flowing mountain streams over old bridges, see elk and black bears in open meadows, and have plenty of opportunities to stop for hiking, camping, fishing, and sports Watercolor. Highlights include the creek flowing under an 80-foot bridge at Big Laurel Falls and the stunning 360-degree views from the summit of Waterrock Knob.
6
Russell-Brasstown Scenic Byway
This scenic Georgia byway offers views of the mountain, Brasstown Bald, and Chattahoochee National Forest
A view from Brasstown, Georgia, USA, in the Blue Ridge Mountains
Located in Georgia, the 40-mile Russell-Brasstown Scenic Byway offers travelers wildlife, mountain views, and adventure. Visitors will drive through the lush landscape of the Chattahoochee National Forest and pass Brasstown Bald Mountain, Georgia's highest peak at 4,784 feet.
Be sure to stop by the Brasstown Bald Visitor Center for stunning sweeping views of the mountains and valleys, as well as exhibits about the area's ecology, Cherokee history, and early European settlers. The drive also features access to fishing, hiking trails, and primitive campgrounds.
RELATED: 8 Scenic Things to Do in Blue Ridge, Georgia
5
Side waterfall through Pisgah
This 98-mile hike passes through the Pisgah National Forest and features several picturesque waterfalls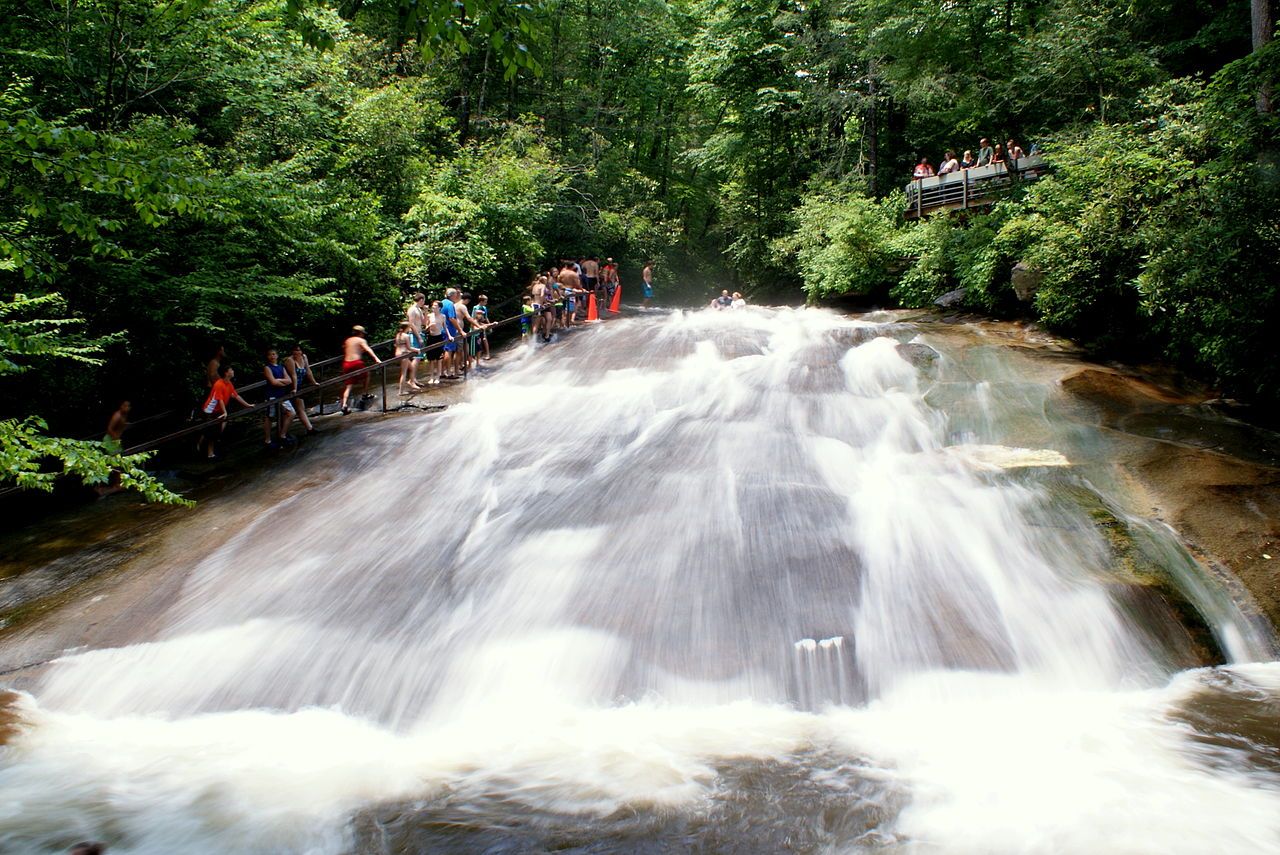 People line up to slide down the rock slide in Pisgah National Forest.
True to its name, the 98-mile waterfall bypass trail in the mountains of North Carolina passes several cascading waterfalls in the Pisgah National Forest. On this scenic drive from Brevard to Toxaway Lake, trailblazers will pass the 200-foot vertical drop of Bridal Veil Falls, the unique Horsepasture Falls, and the majestic and powerful Turtleback Falls.
The trail features parking areas and hikes to waterfalls, as well as swimming holes and trails along the way to give visitors opportunities to get outside and enjoy the Blue Ridge's natural splendor up close.
4
Star daughter scenic lob
This 42-mile scenic loop in Virginia blends mountain scenery with Native history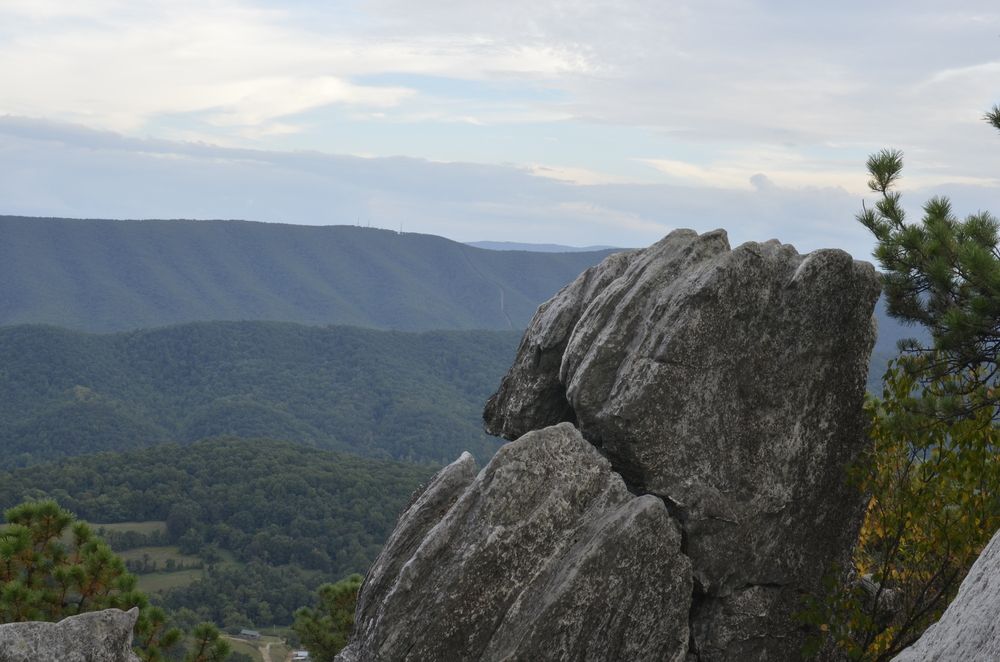 Dragon's Tooth landmark on the Appalachian Trail near Blacksburg, Virginia, USA
Located within the Jefferson and George Washington National Forests in Virginia's Blue Ridge region, this 42-mile loop trail offers visitors stunning mountain views and opportunities to learn about the indigenous history of Southwest Virginia. Travelers will pass through open meadows with 180-degree views of the surrounding peaks, tour underground caves and cave systems, and visit historic sites like the Schott Tower, tracing the history of local lead mining.
In the spring, the drive features displays of stunning perennial wildflowers lining the roadside. Hiking trails like Dragons Tooth and wild pony sightings make this diversely scenic Blue Ridge trip unforgettable.
Related: The 10 Best Road Trips You Can Take Through Scenic Virginia
3
Lake View Drive "The Road to Nowhere"
Travel this 6-mile drive through North Carolina to take in mountain views before ending abruptly at the unfinished Great Smoky Tunnel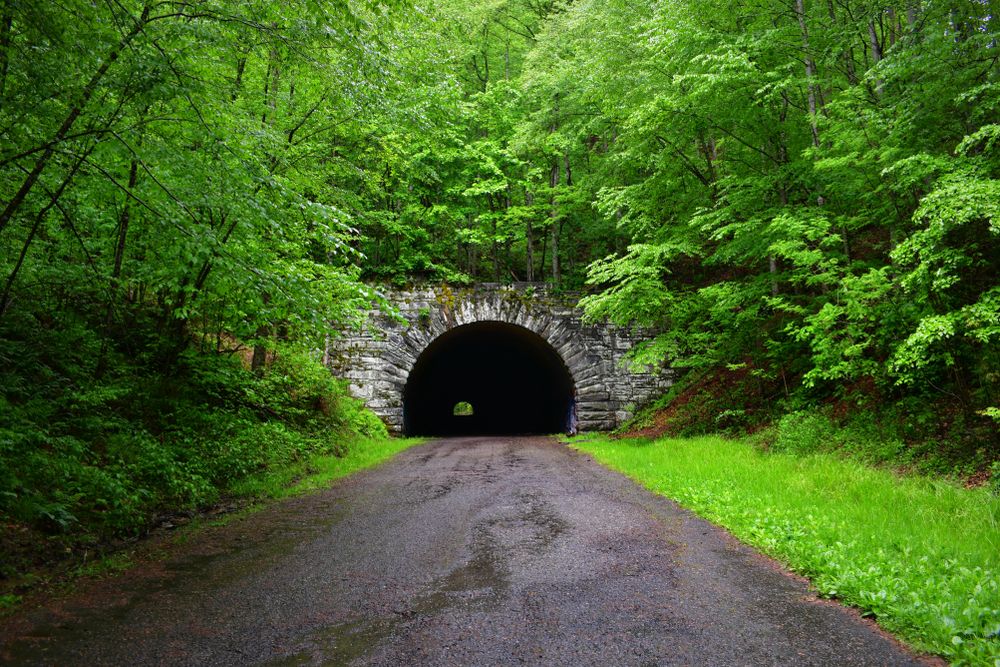 Road to Nowhere, Bryson City, North Carolina
In the Great Smoky Mountains of western North Carolina, the 6-mile dead-end Road to Nowhere offers stunning mountain views before ending abruptly at a tunnel along the deserted road to Fontana Lake.
Along the way, visitors will pass historic concrete bridges and stone bridges built in the 1930s, pass through lush Appalachian hardwood forests filled with spring wildflowers, and have plenty of places to stop for pictures of the serene mountain views that showcase the natural diversity of the landscape. .
2
Cohutta-Chattahoochee Scenic Byway
Relax on this scenic 56-mile drive in north Georgia that features mountain streams, swimming pools and historic homes.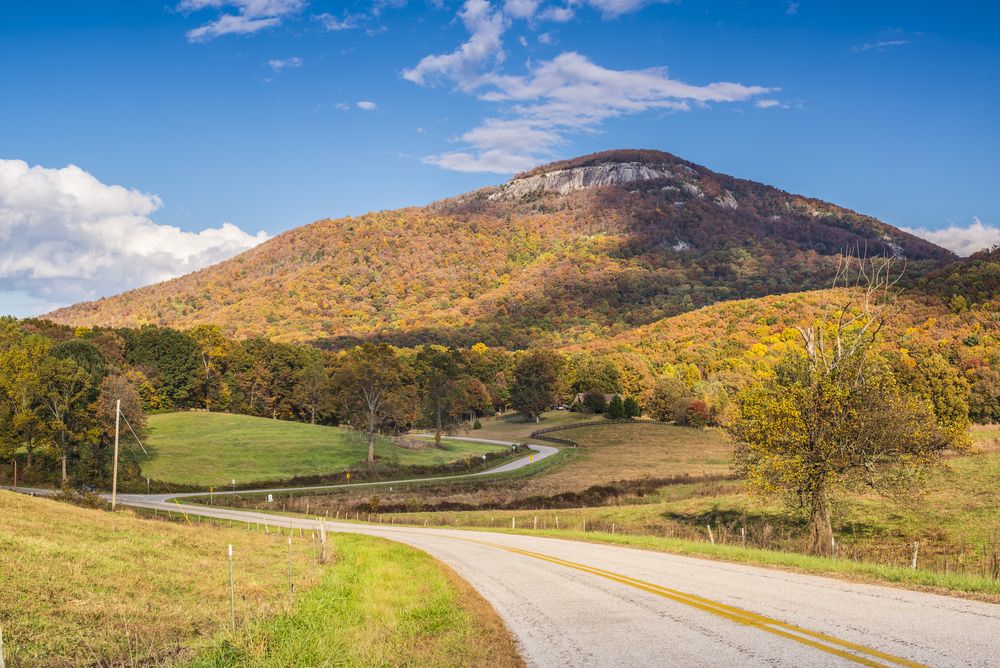 Mount Yona as seen from a road in North Georgia, Chattahoochee National Forest Area, USA
In the mountains of north Georgia, this 56-mile route connects Fort Mountain State Park (one of Georgia's must-visit state parks) with the remote Cohutta Wilderness Area via quiet, scenic country roads with very little traffic.
Single-lane bridges cross mountain streams, and beautiful views of the Chattahoochee National Forest make this a relaxing mountain getaway. Don't miss the hiking trails leading to spectacular waterfalls and pools, as well as exploring preserved pioneer homes and cabins from the early 1800s along the way.
1
Blue Ridge Whiskey Wine Loop
Blending stunning Blue Ridge scenery with wineries and breweries, this 134-mile loop offers beautiful places to sample regional flavors.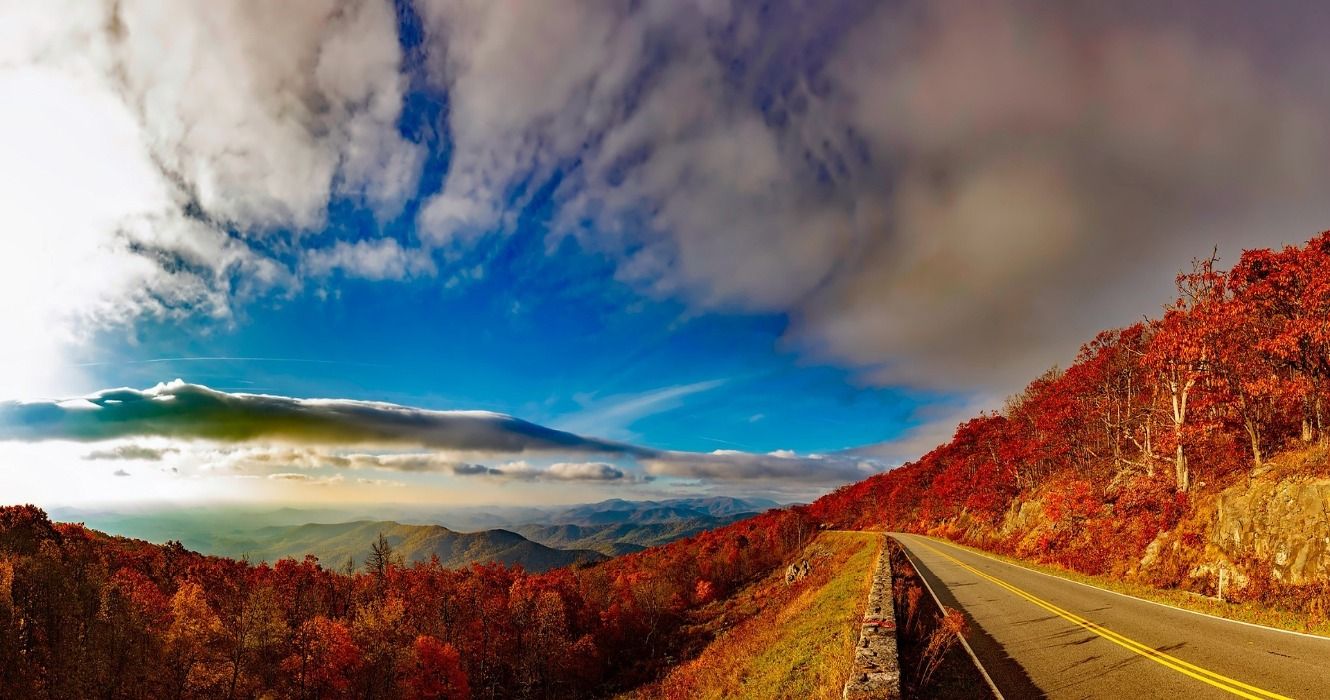 Fall foliage along a scenic drive in the Blue Ridge Mountains, Virginia, USA
The Blue Ridge Whiskey Wine Loop offers a delicious way to explore the mountains of Virginia. This 125-mile scenic route runs primarily along Route 151, passing through vineyards, craft breweries and distilleries nestled in the foothills of the Blue Ridge. Visitors can taste famous Virginia wines like Viognier and Cabernet Franc, taste-test unique craft beers, and sample smooth bourbons – all while enjoying the stunning views.
Be sure to stop by destinations like Bold Rock Cidery, Silverback Distillery, and Veritas Vineyard & Winery to learn about the processes behind the creation of these iconic drinks. With the Blue Ridge as a backdrop, this loop blends scenic mountain driving with perfect spots to sip and savor regional flavors.