10 castles in the United States inspired by fairy tales
summary
America is home to a stunning array of fairytale-esque castles, built by titans of industry.

From Hearst Castle in California to Belcourt Castle in Rhode Island, these castles showcase stunning architecture, beautiful gardens, and impressive art collections.

Visitors can explore these castles on guided tours and experience the sumptuous rooms, romantic atmosphere, and interesting history first-hand.
The United States is not particularly known for castles. When imagining fairytale palaces, the mind naturally conjures up images of the stunning ancient fortresses of Europe; However, it cannot be denied that the United States is home to an impressive array of castles.
Instead of being built by feudal kings and lords to repel invading forces, American castles were built by titans of industry eager to replicate the whimsy, wonder, and romance of fairy tales. From French-style chateaux on the East Coast to majestic Mediterranean fortresses on the West Coast, America is home to some of the most beautiful castles in the world.
Below are a number of beautiful castles in the United States that look like they came straight out of a fairy tale.
Related: There's a castle in the middle of the Arizona desert, and this is how you can visit Toferia
1
Hearst Castle (San Simeon, California)
Swimming pool at Hearst Castle, California
Located on a hill overlooking the Pacific Ocean, Hearst Castle is one of the most famous castles in the United States and looks like a palace copied and pasted straight from a fairy tale. In fact, the original name of the castle, "La Cuesta Encantada," means Enchanted Hill in Spanish.
Built by media mogul William Randolph Hearst and designed by architect Julia Morgan, this castle is known for its stunning Mediterranean and Spanish Colonial design, priceless art collection, and gorgeous gardens.
Today, the castle is a museum, and guided tours allow visitors to explore Hearst Castle's stately rooms and learn about its history.
Title: 750 Hearst Castle Road, San Simeon, CA 93452
Original construction: 1919-1947
Public tours available: Yes
2
Boldt Castle (Alexandria Bay, New York)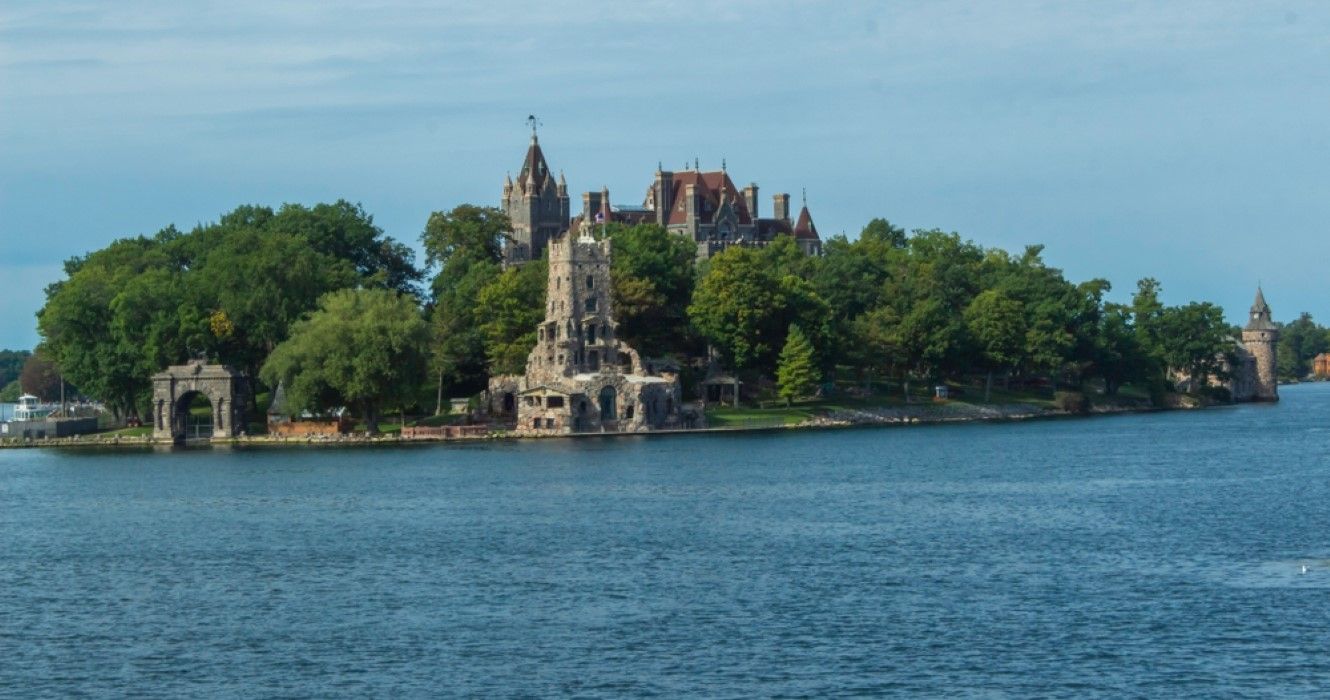 A view of Boldt Castle on Heart Island in Alexandria Bay, New York
Located on Heart Island, Boldt Castle is among the best castles in America and is also a must-visit destination for believers in true love. The idea and story behind Boldt Castle began as an act of love.
Hotel magnate George Boldt built this six-story castle as a gift for his wife. However, construction of the castle came to an abrupt halt when Boldt's wife died in 1904. Boldt never returned to Heart Island, as he was unable to gaze upon the dream castle dedicated to his wife.
When the Thousand Islands Bridge Authority acquired the property decades after Boldt's death, the castle was renovated and restored. Today, the castle's fairytale-like architecture features everything from towers to arched bridges, and displays a mix of Chateau and Rhineland-inspired design.
Visitors can visit Boldt Castle from May to October and enjoy its many stunning views, making it a must-visit destination for every romantic at heart.
Title: 1 Heart Island, Alexandria Bay, NY 13607
Original construction: 1900-1904
Public tours available: Yes; Mid-May to mid-October
Related: Step into a fairytale world: 10 castles in Germany you must visit
3
Biltmore Estate (Asheville, North Carolina)
Biltmore Estates in Asheville North Carolina
Biltmore Castle is another fairytale castle in the United States that arose from the vast fortunes made during America's Gilded Age. The Biltmore Estate was built by the prominent Vanderbilt family, and today it is the largest house in the United States still in private ownership.
This massive chateau-style estate rivals many European castles with its sprawling gardens, ornate interiors and an impressive collection of more than 92,000 objects. Although the Biltmore is privately owned, visitors can enjoy tours or wine tastings at the Biltmore Winery or spend the night at the property's hotel, inn or cottage. The property also hosts weddings for couples who have always dreamed of a fairytale wedding.
Title: 1 Lodge Street, Asheville, NC 28803
Original construction: 1889-1895
Public tours available: Yes
4
Fonthill Castle (Doylestown, Pennsylvania)
A view of the Mercer Museum and Fonthill Castle in Doylestown, Pennsylvania
Fonthill Castle is the perfect destination for those who prefer quirky and eclectic fairytale settings. Located in Doylestown, this charming castle was built, designed and inhabited by the famous American archaeologist, scholar and tile maker Henry Chapman Mercer. The castle features a unique blend of medieval, Gothic and Byzantine architectural styles.
It is among the most charming castles in the United States; The structure's whimsical design, decorated with ornate tiles and artistic details, is a marvel to behold and allows guests to step into a fairytale castle filled with whimsical charm, intriguing history and charming details.
Title: 525 E Court Street, Doylestown, PA 18901
Original construction: 1908-1912
Public tours available: Yes
5
Bishop's Palace (Galveston, Texas)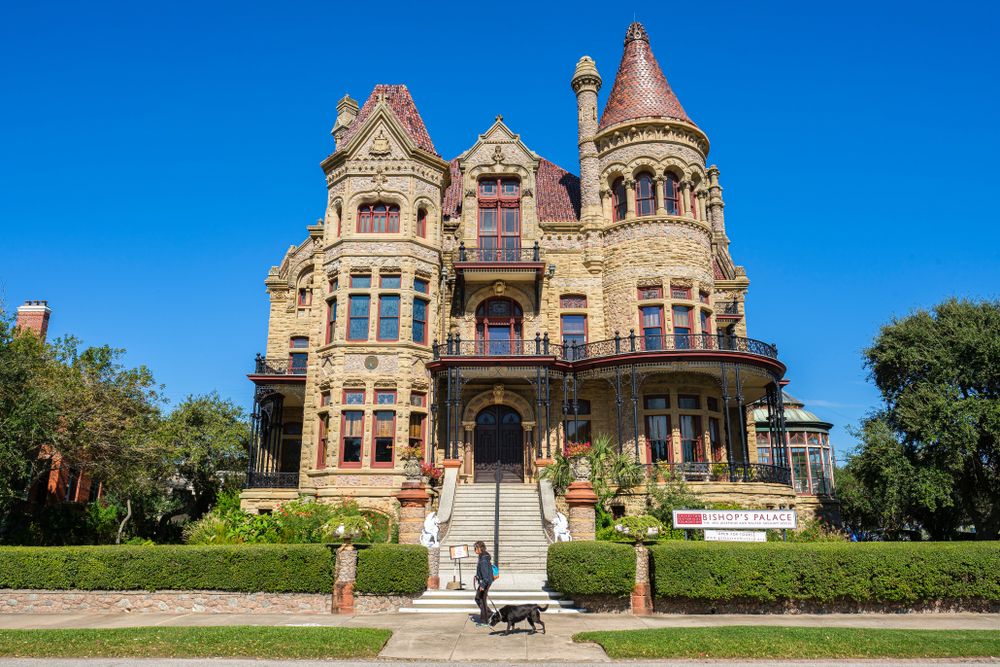 Exterior view of the Bishop's Palace in Galveston, Texas
The Bishop's Palace, also known as Gresham Castle, is a stunning Victorian masterpiece with stunning medieval influences. Today, it is one of many fairytale castles in the United States, but interestingly enough the building was initially built for local politician and lawyer Walter Gresham. The Roman Catholic Diocese of Galveston eventually purchased the house, and it then became the residence of their bishop, hence the name Bishop's Palace.
This American castle features elaborate stained glass windows, intricate woodwork, and a dramatic tower reminiscent of a watchtower from a fairytale.
Title: 1402 Broadway Avenue G, Galveston, TX 77550
Original construction: 1887-1893
Public tours available: Yes
6
Castillo de Amorosa (Calistoga, California)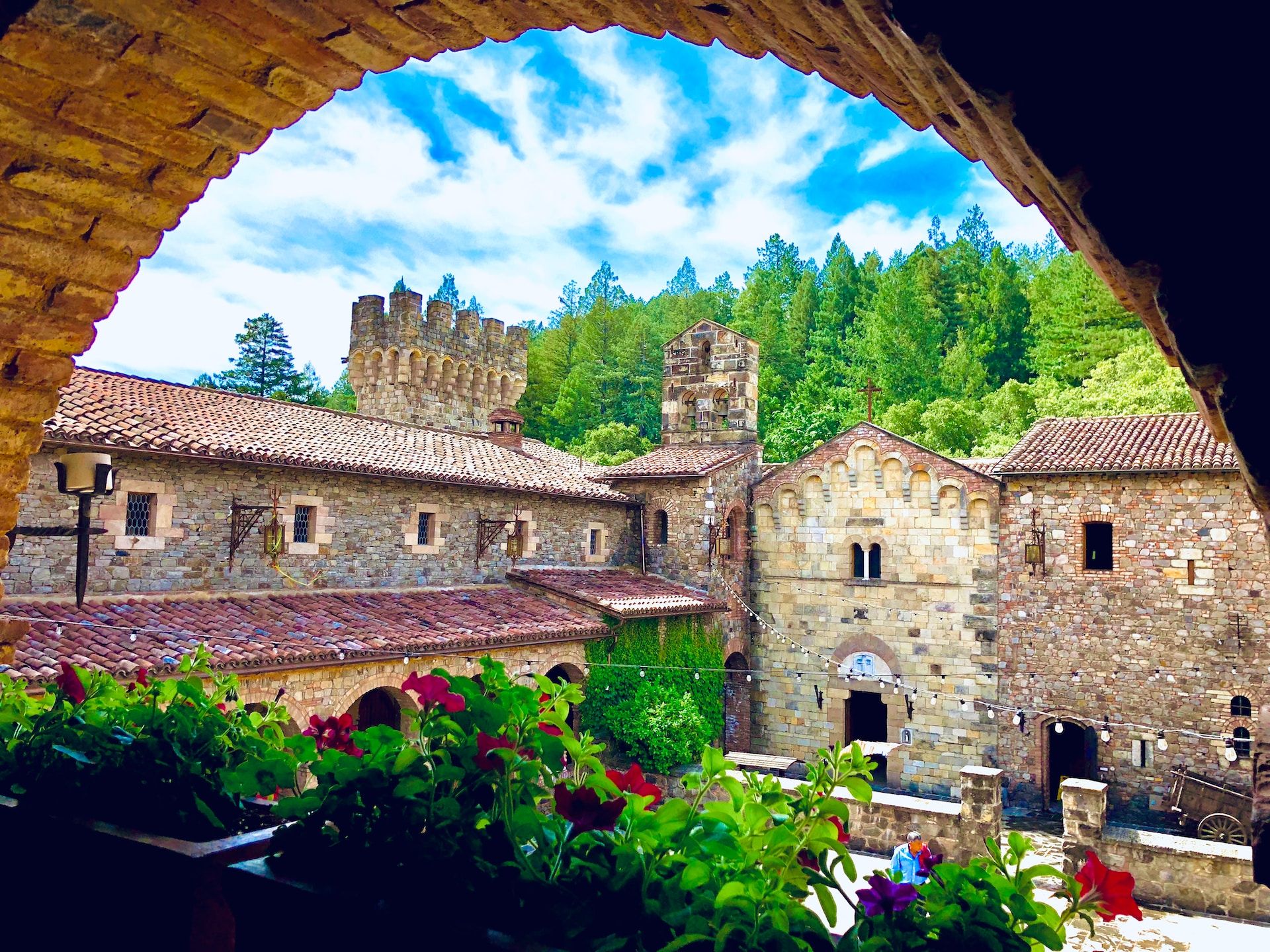 View from Castillo de Amorosa in California
Castello di Amorosa looks like it stepped out of the world of medieval Tuscany, even though it is a working winery located in California's Napa Valley. Inspired by his travels across Europe, fourth-generation winemaker Dario Sattoi decided to build this 14th-century-inspired castle.
Castello di Amorosa was meticulously built with authenticity in medieval design in mind, and it shows. From the drawbridge entrance to the knights' rooms, this castle is a love letter to the Middle Ages and a true fairytale castle.
Everyone from history buffs to wine lovers will be happy to visit Castello di Amorosa. The castle hosts guided tours, wine tastings, and stunning views of the valley from its tower.
Title: 4045 St. Helena Highway, Calistoga, CA 94515
Original construction: 1994-2007
Public tours available: Yes
RELATED: 10 Amazing Castles Located in North America
7
Gillette Castle (East Haddam, Connecticut)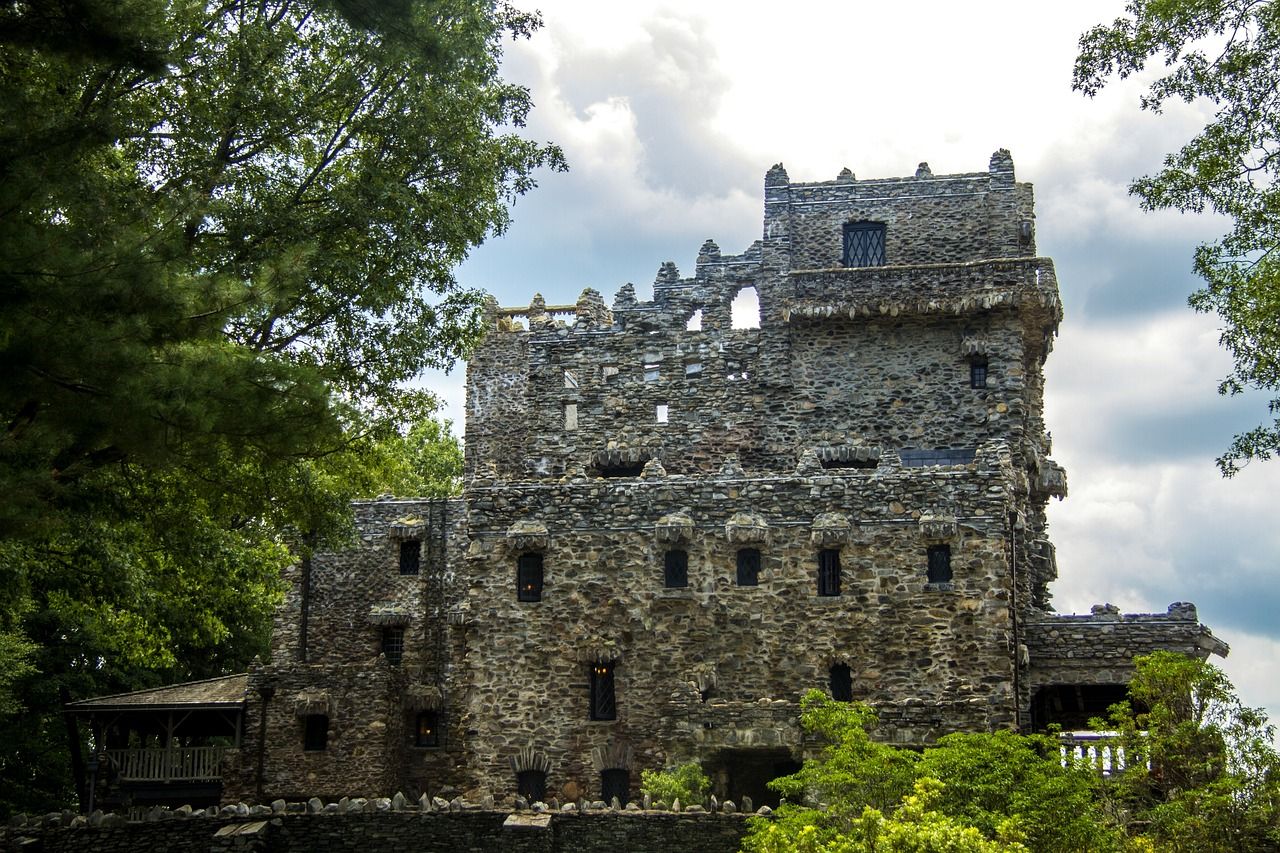 A view of Gillette Castle in East Haddam, Connecticut
Sitting high above the Connecticut River, Gillette Castle looks like an abandoned medieval castle. This castle was originally known as Seventh Sister. The castle was designed, built and inhabited by the famous American stage actor and eccentric William Gillette.
Today, Gillette Castle is owned and operated by the state of Connecticut. Visitors can wander through the castle's winding rooms or explore the beautiful surrounding paths.
Title: 67 River Road, East Haddam, CT 06423
Original construction: 1914-1919
Public tours available: Yes
8
Hammond Castle (Gloucester, Massachusetts)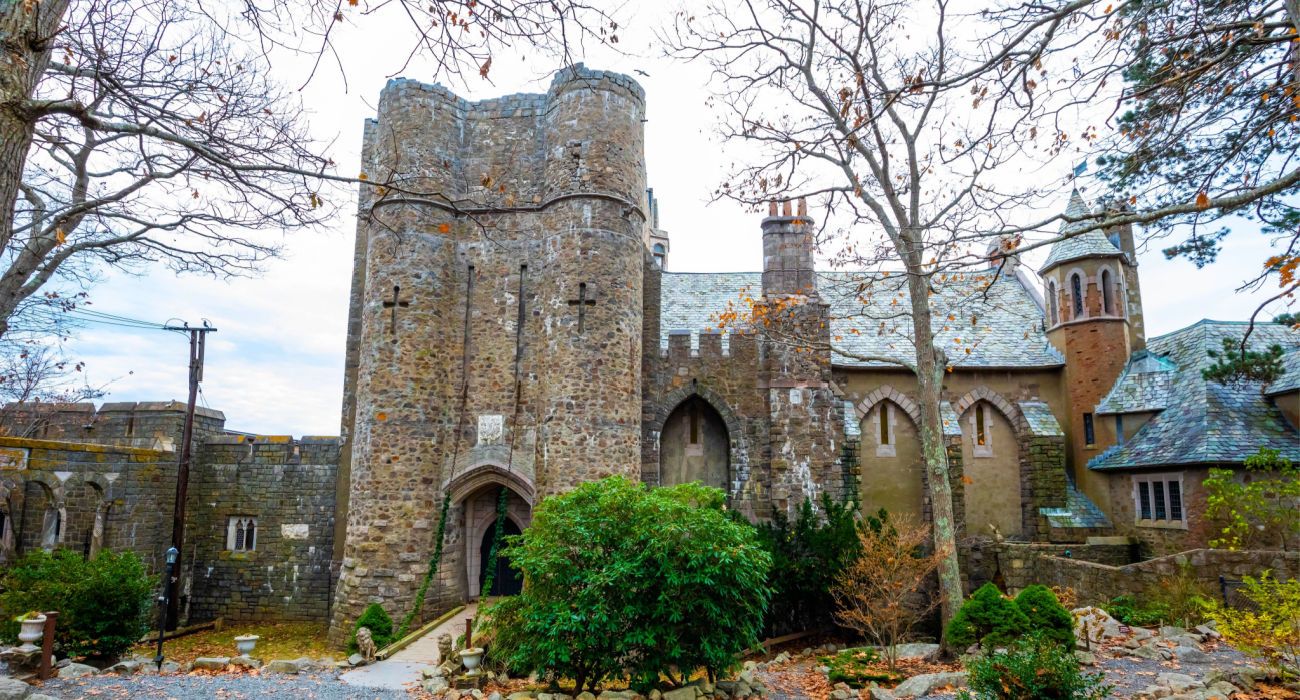 A view of Hammond Castle in Gloucester, Massachusetts
Hammond Castle is a Gothic-style castle overlooking the Atlantic Ocean. The castle's sweeping landscape, secret passageways, and impressive collection of Roman and medieval artifacts make it look as if it has withstood countless sieges, conspiracies, and historical scandals.
However, it was built in the early 1900s by prolific inventor John Hayes Hammond Jr., who is best known for pioneering the study of wireless remote controls. Hammond Castle still stands today, and visitors are invited to visit its museum, tour the estate, explore its countless rooms, and even host special events on the grounds.
Title: 80 Hesperus Street, Gloucester, MA 01930
Original construction: 1926-1929
Public tours available: Yes
Related: 10 Haunted Castles Around the World
9
Search Castle (Huntington, New York)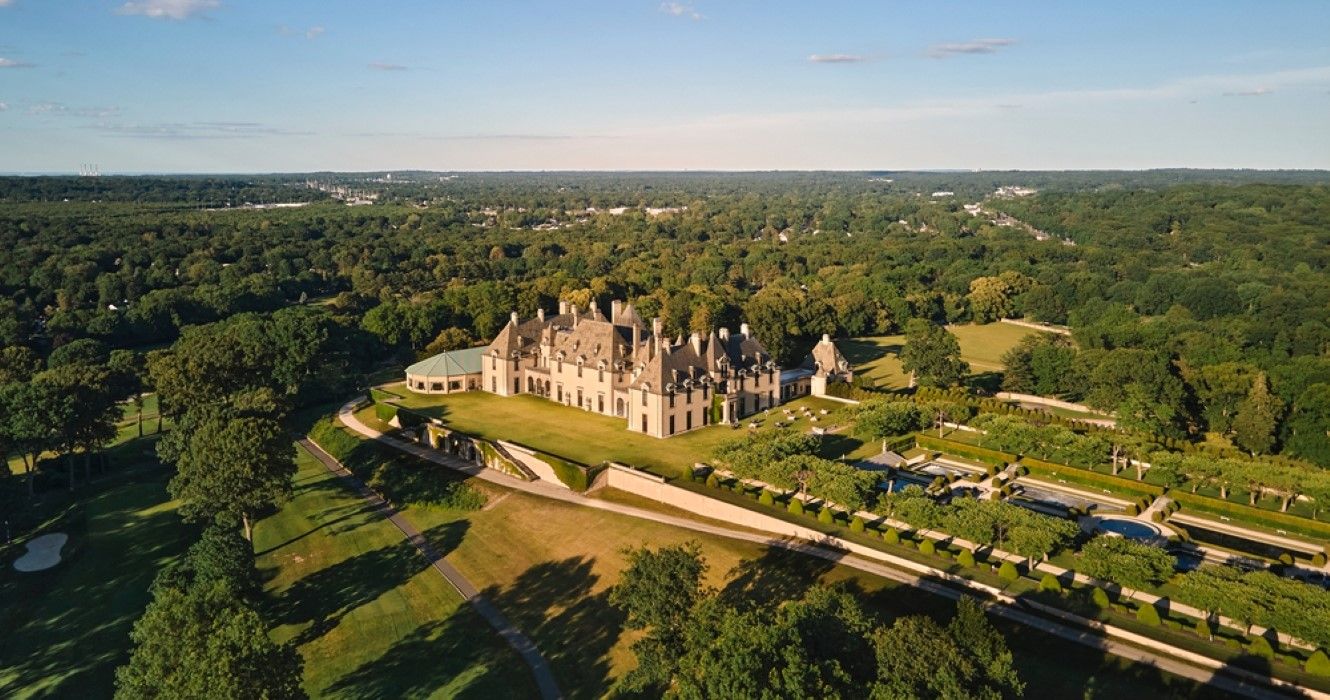 Look for the castle in Huntington, New York
Located on Long Island, Oheka Castle is one of the finest castles in the United States that exudes an aura of timeless elegance and fairy-tale romance. Inspired by the grand chateaux of France, this sprawling estate was originally built by investment banker Otto Hermann Kahn.
The castle's opulent architecture, lavish gardens and picturesque interiors have long made its grounds popular. It is suggested that F. Scott Fitzgerald used Oheka as inspiration for the deteriorating mansions in his novel, The great Gatsby. Today, this castle remains very popular among the American elite. The property has been converted into a hotel that hosts many special events and parties throughout the year.
Title: 135 W. Gate Dr., Huntington, NY 11743
Original construction: 1914-1919
Public tours available: Yes
Oheka Castle has served as a filming location for countless movies, television shows and music videos, including Taylor Swift's 2014 "Blank Space" music video.
10
Belcourt Castle (Newport, Rhode Island)
Belcourt Castle, Newport, Rhode Island, USA
Belcourt Castle is one of the best American castles that looks like it came out of a fairy tale. This impressive property was originally built to imitate the French Renaissance style, but over time, it incorporated many other architectural elements from across Europe, including Gothic, English, German and Italian designs.
Designed by the famous architect Richard Morris Hunt, Belcourt Castle was the summer home of American banker and politician Oliver Belmont.
Regularly scheduled tours allow visitors to learn about the history and development of this property. There is also a nighttime ghost tour highlighting tales of the haunting of Belcourt Castle. With its large ballroom, elegant furnishings and stunning stained glass windows, the castle reflects the luxury and charm of the Gilded Age.
Title: 657 Bellevue Avenue, Newport, Rhode Island 02840
Original construction: 1891-1894
Public tours available: Yes